Family mourns Chinese student murdered in Canada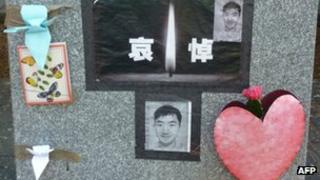 The family of the Chinese student who was killed and dismembered in Canada have called his death "a disastrous blow", local media report.
The first public comments by Jun Lin's family were released by the Chinese consulate in Montreal on Monday.
They arrived in Montreal from China last week.
Luka Rocco Magnotta, 29, is suspected of killing Mr Lin, 33, and posting severed body parts to political parties.
"This appalling catastrophe has dealt a disastrous blow to our family," Mr Lin's family said.
"But it inspired outpourings of sympathy and charity in people, bringing together kind-hearted people in society, and deeply moving and gratifying us in a time of deep sorrow."
They described Mr Lin as a "Buddhist believer" who "made a point of doing benevolent deeds and achieving moral excellence".
Mr Magnotta, a porn actor, was arrested early this month in Berlin over Mr Lin's death and has appeared in court there. He is facing extradition from Germany.
Aside from the severed body parts sent to political parties in Canada, human remains likely to be from the same body were also sent to two Vancouver schools from Montreal, police say.
They add that the packages contained what appeared to be a human hand and foot, and are thought to be limbs missing from Mr Lin's body.
Mr Lin, said to be Mr Magnotta's lover, was from the city of Wuhan in China. He had been enrolled as an undergraduate at Concordia University in Montreal, studying engineering and computer science.
Investigators say a video posted online, in which a man apparently uses an ice pick to kill another man, is believed to show Mr Lin's murder.
Mr Magnotta faces charges in Canada of murder and threatening Canadian politicians.