China morning round-up: Countdown to space blast-off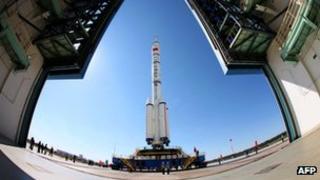 All eyes are on the Jiuquan launch centre in Gansu province, as China gets ready for its latest space mission.
The Global Times and Beijing News say a full system drill has been successfully completed, with astronauts running through the rocket launch process.
C China Daily continues the discussion on the two potential female astronauts , revealing the criteria used for their selection.
China's female astronauts "must be married and preferably mothers", it says, due to concerns that the potential exposure to radiation could harm fertility.
Beijing News takes a look at a farm that exclusively supplies the astronauts' food, detailing how well-fed the livestock are and how tight the quarantine process is.
People's Daily reports on a speech delivered by Premier Wen Jiabao to a meeting of China's top scientists in Beijing on Monday.
Beijing News and Guangzhou's Southern Metropolis Daily focus on the absence of a newly-admitted fellow of the Chinese Academy of Engineering. His nomination sparked controversy because he is a leading researcher in tobacco production.
People's Daily runs a second day of extensive coverage on the country's second human rights action plan, with commentaries on both of its domestic and overseas editions praising its significance.
China Daily and Shanghai Daily report on the probe in Yantai city in Shandong for "toxic apples" .
China Daily's editorial says transparency is the best remedy for China's ongoing food safety scare, while Beijing Times and others carry a commentary from the Xinhua News Agency, appealing to farmers to refrain from using banned pesticides.
Guangzhou's 21st Century Business Herald reports on a "verbal war" in Hong Kong, as the city's former head of the de-facto central bank calls for the government to axe Hong Kong dollar's peg to the US dollar.
The Hong Kong Standard says Joseph Yam, former chief of the Hong Kong Monetary Authority, has "unleashed a dollar peg furore" with the publication of his academic research paper.
Its sister publication, Sing Tao Daily , says Hong Kong's government officials have been busy with "fire fighting" on Tuesday to reiterate the government's stance in keeping the peg as a result of Mr Yam's sudden move.
Ming Pao Daily News points out that Joseph Yam was the person who launched the peg policy and defended it for nearly 30 years. Pro-Beijing legislators criticised him for publishing such comments at a very sensitive time. The new government under Chief Executive-elect Chun-ying Leung is due to swear in on 1 July.
Metro Daily Hong Kong reports on speculation that Mr Yam may have published the paper out of anger due to a recent report by the city's legislature. It holds him accountable for the Lehman Brothers' mini bond crisis in Hong Kong, when the New York banking giant sank in 2008.