Top chief says Bo Xilai scandal 'damaged' China's image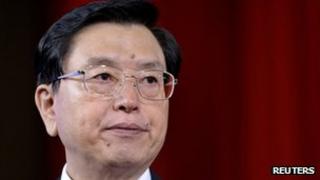 The new leader of China's city of Chongqing has said that the Bo Xilai scandal "gravely damaged" the image of the country and the Communist Party.
Zhang Dejiang spoke at a municipal party congress ahead of a major Communist Party leadership change in October.
Former party chief Bo Xilai was sacked in March and is under investigation for breaking party discipline.
His wife is a suspect in the death of British businessman Neil Heywood.
The scandal surrounding Mr Bo, seen as the biggest political shake-up in China in years, made headlines and exposed divisions in the Communist Party leadership.
Mr Zhang, who replaced Mr Bo in March, said that the work of the city's party committee had some "problems and deficiencies".
"Especially the Wang Lijun incident, death of Neil Heywood and serious discipline problems of comrade Bo Xilai, which have gravely damaged the party and nation's image, and seriously affected Chongqing's reforms and development," he said, based on a transcript of his speech published on a government news website.
But he added that Chongqing's achievements over the last five years and the hard work of other officials must be strictly separated from the scandal surrounding Bo Xilai.
Mr Zhang said that the need to "resolutely uphold the principle that all are equal before the law, and never let any person or group put themselves above the law" was important.
"Leading officials must especially set an example in following the law," he said.
Mr Bo - a high flier who was once expected to reach the top echelons of office - has not been seen in public since he was removed from his political posts.
Reports say that he is under house arrest in Beijing, while his wife is in formal detention.
His downfall was triggered when his police chief, Wang Lijun, fled to the US consulate, reportedly to seek asylum after falling out with Mr Bo over his investigation into the death of Neil Heywood.
Mr Heywood was found dead in a hotel in Chongqing on 15 November 2011.
Local officials initially said he died of excessive drinking, but the government announced in April that it was investigating Mr Bo's wife in connection with the case.