Protest in China over Guangzhou death in custody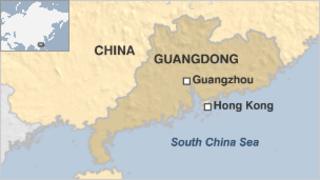 Police in the Chinese city of Guangzhou say they are investigating the death of a foreign man at a police station, which led to clashes between African traders and police.
The man, said in some reports to be a Nigerian citizen, was taken to the station on Monday after a clash with an electric bicycle driver over a fare.
While there, he "lost consciousness" and died, police said.
Over "100 Africans" protested over his death on Tuesday, state media reported.
The man, whose identity has yet to be confirmed, had taken a ride on an electric bicycle on Monday afternoon.
The two men fought after they failed to agree on the fare and both of them were taken to the police station.
Police said that medical personnel tried to revive the man after he lost consciousness, but he died.
Protesters took to the streets on Tuesday, demanding to know the cause of death, police say.
Xinhua put the number at over 100, while the state-run Global Times said "hundreds" of people took part.
In a statement , Guangzhou police said they would "investigate and settle this case strictly by law", but also issued a warning.
"All should abide by the law of China, no one should harm public interests or damage public order."