China morning round-up: Warning on rare earth reserves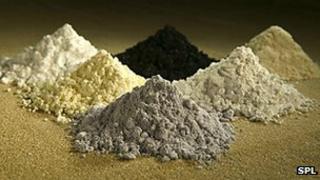 China's warning on the depletion of its rare earth resources is one of the major news stories in Thursday's newspapers.
China Daily begins its report by saying that Beijing has denied claims it sought political benefit or increased returns by manipulating rare earth prices.
The export curbs on rare earths are to protect the environment and are in line with international trade rules, Shanghai Daily and People's Daily say, citing comments made by China's Vice-Minister of Industry and Information Technology Su Bo.
In a white paper released on Wednesday, China said it would continue to intensify regulations for the sector while supplying the global market in line with World Trade Organisation rules, says the Global Times .
Guangzhou's 21st Century Business Herald says Mr Su refuted a previous figure from the US on China's rare earth reserves. He said China possesses only 23% of global reserves, according to China's own survey, in contrast to Washington's figure of 36%.
Mr Su also said countries with rare earth resources should take responsibility for global supply, reports the People's Daily Overseas Edition .
National People's Daily and China Daily continue to focus on news from the G20 summit in Mexico, including the meeting between Chinese President Hu Jintao and US President Barack Obama.
The report from Beijing Times says Mr Hu urged Mr Obama to adopt a "positive and pragmatic approach" towards China, and prevent domestic politics from affecting ties.
Beijing News says the two leaders have reached a new record for holding bilateral talks 12 times over the past three years.
On the other hand, People's Daily covers Premier Wen Jiabao's participation in the Rio+20 Earth Summit in Brazil.
With the draft text for the Rio Declaration on Environment and Development made available to participating countries, China Daily says China found the text "not perfect, but acceptable".
China Daily says diplomats from the Nigerian embassy in Beijing are on their way to Guangzhou to help with the investigation into the death of a Nigerian trader in the southern Chinese city.
China has also given its first reaction to the arrest of a Frenchman in Cambodia who is reportedly linked to the disgraced Chinese politician Bo Xilai and his wife Gu Kailai.
"I have no information about that to provide to you," said Foreign Ministry spokesman Hong Lei, as quoted by the Shanghai Daily .
Hong Kong's AM730 newspaper leads with the news that dissident artist Ai Weiwei was barred from attending a court hearing on his tax evasion case. Ming Pao Daily News reports many other dissident and activists were also detained at home during the Beijing hearing.
Sport indexes across China are leading with the confirmation that former Chelsea striker Didier Drogba is joining Chinese club Shanghai Shenhua.
Team boss Zhu Jun has posted a photo on his microblog, according to the China Daily , showing him welcoming Mr Drogba with a Shenhua jersey.
Fans in Shanghai celebrated the news, says the Shanghai Daily , and the Beijing Times says the Ivory Coast player is the biggest foreign player in China's premier league so far.