China morning round-up: South China Sea ructions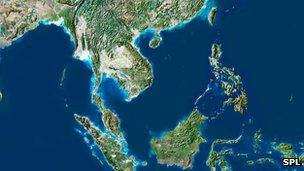 Most newspapers lead with Beijing's latest move in the multi-nation South China Sea territorial dispute.
China on Thursday announced the establishment of a new city, Sansha, under the authority of Hainan province, according to China Daily and People's Daily .
The new city government replaces three "administration offices" that manage the South China Sea, Paracel and Spratly archipelagos, and the Macclesfield Bank, say the reports. The islands are known as Xisha, Zhongsha and Nansha respectively in China.
The city government is to be located on the Paracel island of Woody, known as Yongxing Island in China. Papers such as the Shanghai Morning Post give a brief overview of the new city centre.
China is in dispute with Vietnam over the Paracels and Spratlys, while the Philippines also claims the Spratlys. Taiwan claims all three groups - in parallel with China.
Meanwhile, papers including Shanghai Daily and Beijing Times also report Beijing's criticism of Hanoi's new maritime law, which was approved by the Vietnamese parliament on Thursday.
The foreign ministry said China summoned Vietnam's ambassador to China to deliver a protest as the new law formally incorporates the Paracel and Spratly islands into Vietnamese territory, reports Guangzhou's Southern Metropolis Daily .
Commentators believe that Beijing is responding to moves by Hanoi and Manila recently over the dispute, as well as to pacify the angry demand for action from the Chinese public, reports Hong Kong's Sing Tao Daily .
In an editorial, Hong Kong's Bejing-backed Wen Wei Po urges Beijing and Taipei to enhance their co-operation to defend "the Chinese nation's sovereignty" in the South China Sea.
In other news, Premier Wen Jiabao's ongoing visit in Brazil for the Rio+20 Earth Summit is covered by Beijing News and others.
People's Daily focuses on the meeting between Mr Wen and his Indian counterpart Manmohan Singh, saying Mr Singh promised not to sponsor any anti-China activities, without elaborating.
As China begins the Dragon Boat Festival national holiday, papers like the Southern Metropolis Daily flag up the news that Beijing's Forbidden City museum is at the centre of a traditional food row as it "supervised" the production of some very expensive Dragon Boat Festival rice dumplings.
And Beijing's lottery frenzy has turned a new page as the lottery authority confirmed that a winner had come forward to claim the 570m yuan ($89.5m; £57.7m) jackpot.
Reports from Beijing Times and Southern Metropolis Daily say Beijing's lottery management centre still refuses to reveal the identity of the lucky one. It has not even mentioned whether it is a he or a she.
Related Internet Links
The BBC is not responsible for the content of external sites.