China morning round-up: Space and sea triumphs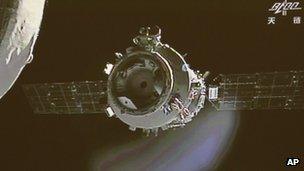 Newspapers lead with simultaneous scientific achievements in space and in the sea.
Both events took place on Sunday, which China Daily describes as a "day of pride".
The Global Times says a poem by the late Communist leader Mao Zedong is cited in foreign media to describe the double achievement.
"We can clasp the moon in the Ninth Heaven, and seize turtles deep down in the Five Seas," wrote Chairman Mao in 1965.
Beijing News says the three astronauts on board the Tiangong-1 and the three submariners on board the Jiaolong exchanged congratulations with each other.
Beijing Times also reports on spending on space missions so far. According to spokesman Ren Wuping, some 39bn yuan ($6.13bn; £3.93bn) has been spent on manned space missions, with some 19bn ($2.98bn; £1.92bn) on docking missions.
Also on Monday, national papers continue to carry strong comment on the South China Sea disputes between China, Vietnam and the Philippines.
China Daily's editorial criticises the Vietnamese parliament's adoption of a law that incorporates the Paracel and Spratly archipelagos as its territories as "ridiculous".
"Their provocations will meet with strong reactions from China, and push China to systematically strengthen related management," it said.
In Hong Kong, many papers including the Standard report on the confirmation that Chinese President Hu Jintao will visit Hong Kong during the 15th anniversary of the former British colony's handover to China.
Its sister paper Sing Tao Daily also reports on details of tight security during the president's visit. Ming Pao Daily News says a number of parties are planning to petition Mr Hu.
Meanwhile, China Daily and People's Daily Overseas Edition publish an interview with the incoming Chief Executive Leung Chun-ying. Mr Leung said it will take a long time "before remnants of colonial influence disappear entirely".
The AM730 newspaper carries an interview with veteran barrister and democratic politician Martin Lee. He said the "two systems" component of Beijing's "one country, two systems" promises made before the handover was gradually losing its place, 15 years on.
Related Internet Links
The BBC is not responsible for the content of external sites.