China morning round-up: Copyright treaty signed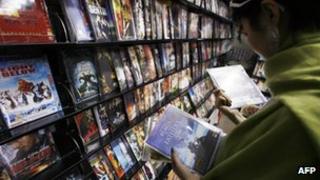 Wednesday's newspapers in Beijing mark the signing of an international treaty on intellectual property rights (IPRs).
The treaty was adopted at the World Intellectual Property Organisation's (WIPO) Diplomatic Conference on the Protection of Audiovisual Performances, which concluded in Beijing on Tuesday.
The signing of this treaty marks the end of nearly 20 years of international negotiations on how to protect IPRs for performances in audiovisual formats, Beijing News reports .
According to the treaty, artists can approve or ban anyone from reproducing a particular performance, either a film or a theatre play, says the Beijing Times .
Beijing News further says Beijing vowed to become an "international copyright capital", and Chinese actors such as Jackie Chan had praised the treaty.
In other news, People's Daily reports the Standing Committee of the National People's Congress (NPC) began discussing major legislation on Tuesday.
One is an immigration bill, which according to the Global Times and Shanghai Daily would shorten the minimum stay for foreigners holding a work permit from 180 days to 90 days. Validity for a resident visa would range from 180 days to five years.
The Global Times says this is an effort by the government to standardise treatment for expatriates.
"While the Chinese public has complained about the preferable conditions long enjoyed by foreign residents, immigrants seeking residency or jobs are whining about the vagueness of regulations and fickle policies," said the report.
Also being tabled is an amendment to the rights protection law for the elderly, which would make "visiting or contacting elderly family members" a legal requirement for younger family members, according to the Beijing Times and Beijng News .
China Daily and People's Daily report President Hu Jintao's video phone call to the three astronauts on board the Tiangong-1 space lab on Tuesday. The trio are due to return to earth on Friday.
Papers including the Shanghai Daily and Guangzhou's Southern Metropolis Daily report seven local officials in Shaanxi province have been punished for their role in the forced abortion case in Zhenping county.
Two officials from Zhenping had been dismissed, others were disciplined, while the county government was ordered to pay unspecified "subsidies" to the victim, Feng Jianmei, they said.
Ms Feng's husband is said to be in hiding after the couple were labelled traitors, but this is not mentioned in any reports on Wednesday.
Meanwhile, Hong Kong's Ming Pao Daily News and Sing Tao Daily report a riot erupted between migrant workers and locals in the southern city of Zhongshan. Local police says things are now under control.