US grants China six-month Iran oil sanctions reprieve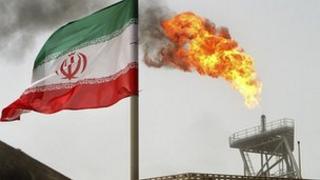 The United States has granted China a six-month reprieve from financial sanctions for buying Iranian oil.
US Secretary of State Hilary Clinton said China and Singapore, which also received the temporary exception, had earned the reprieve by cutting imports.
All 20 of Iran's major oil buyers have now been exempted from the sanctions before they come into effect on Friday.
The financial sanctions aim to pile pressure on Iran to end its uranium enrichment programme.
Tehran insists its nuclear programme is for peaceful means.
Under a US law that came into effect in 31 December, countries had until 28 June to show they had significantly reduced the amount of crude oil they purchase from Iran or face being cut off from the US financial system.
Mrs Clinton said that the significant reductions by all 20 countries showed that the sanctions had made an impact.
"Their cumulative actions are a clear demonstration to Iran's government that Iran's continued violation of its international nuclear obligations carries an enormous economic cost," she said in a statement .
China's imports from Tehran fell significantly in the first four months of the year, but analysts said that was mainly due to an ongoing payment dispute and low seasonal demand.
In May, Beijing's imports of crude oil from Iran rebounded after the two countries resolved the payment dispute.