Two 'plane hijackers' die in China's Xinjiang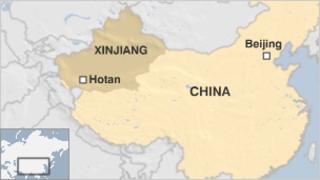 Two men who allegedly tried to hijack a plane in China's restive Xinjiang region have died, state media report.
The Global Times said the men, from the Uighur minority group, died in hospital of injuries sustained trying to break into the plane's cockpit.
Six people were detained after the incident on Friday, in which several people were injured.
Authorities in China frequently clash with the Uighurs, who complain of repression and discrimination.
The Global Times, citing unnamed officials, said the men had died "from injuries received in a fight with passengers and crew".
Two other suspects were moved to hospital after they "reportedly mutilated themselves", it added.
The BBC has been unable to independently verify the reports.
The Tianjin Airlines plane had just taken off from Hotan and was bound for Urumqi when the incident occurred.
Officials have said the men tried to break into the cockpit using a broken aluminium crutch as a weapon, but were overpowered by passengers and crew. The plane landed safely back in Hotan.
But Dilxat Raxit, spokesman for the German-based World Uighur Congress which campaigns for Uighurs' rights, shed doubt on the Chinese claims.
Speaking to AP news agency, he said it had not been an attempted hijack, but a fight following a dispute over a seat.
Almost half of Xinjiang's residents are Uighurs, a Muslim minority group with cultural and ethnic links to Central Asia.
Uighur allegations of discrimination have been behind anti-Han Chinese and separatist sentiment in the restive region since the 1990s.
In 2009, riots erupted in Xinjiang in which nearly 200 people died after tensions flared between the Uighur and Han Chinese communities. Since then, there have been sporadic attacks and clashes.