China morning round-up: iPad trademark row settled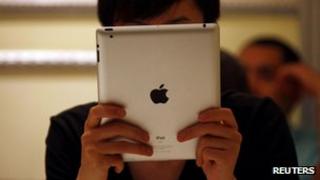 Newspapers focus on Apple's settlement with Chinese firm Proview over the iPad trademark row .
According to a statement published by the Guangdong High Court, Apple agreed to pay $60m (£38m) to Shenzhen-based Proview to settle the dispute over rights to the "iPad" name.
Citing an academic, People's Daily said it was an unprecedented price to settle a trademark dispute.
But Proview's lawyer told reporters that Proview could still face bankruptcy given their $400m debt, says Guangzhou's Southern Metropolis Daily .
Its sister paper 21st Century Business Herald says the $60m payment was the price of a mistake in Apple's initial trademark deal with Proview Taiwan. The original deal cost only £35,000.
Hong Kong's Ming Pao Daily News says many netizens believed Proview was trying to cash in on iPad's success, but academics said Chinese firms should learn the importance of protecting their brands from Proview.
Meanwhile, Shanghai Daily reports Apple is yet to tackle another trademark lawsuit in China.
Jiangsu Xuebao Consumer Goods Company is seeking 500,000 yuan (US$78,800; £50,200) compensation and a public apology, claiming Apple's Snow Leopard operating system has the same Chinese name as its registered trademark, said the report.
In other news, Beijing Times and Southern Metropolis Daily report the Xinjiang Autonomous Region Government awarded 100,000 yuan to each of the 10 passengers and crew members who helped to overpower six suspected plane hijackers in Hotan city on 29 June.
An extra 500,000 yuan was awarded to the cabin crew as a whole, said the reports.
In Guangzhou, transport authorities have launched city-wide checks on possible flaws in car sales after announcing licensing restrictions last week, Southern Metropolis Daily and Beijing Times report.
The restrictions were announced just three hours before they took effect from midnight on 1 July, causing panic-buying at some car dealers overnight.
China Daily and Beijing News say a joint naval drill between the US and the Philippines that began on Monday will fuel tension in the region in the wake of the Scarborough Shoal stand-off.
A commentary in the People's Daily says China should be vigilant against potential interference in the upcoming Asean foreign ministers meeting "by a handful of countries including the Philippines" on the South China Sea issue.
Hong Kong's Ming Pao Daily News and Sing Tao daily also report police in the city of Shifang in Sichuan province broke up mass protests against the construction of a heavy metal refinery. The Global Times says the local government has now halted the project.