China morning round-up: Shifang protest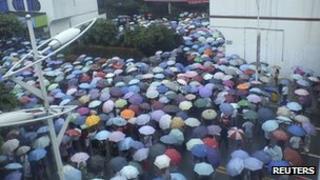 Newspapers cover the mass protest in the city of Shifang and the promise by local officials that the controversial plant construction will be permanently abandoned.
Li Jincheng, Communist Party secretary for the city in Sichuan province, said in a statement that the project would be scrapped in response to public concern.
Assessing the impact, China Daily's editorial says: "Residents' lack of scientific knowledge and excessive concern for the environment may prevent some worthwhile projects from being launched."
"But their growing awareness about environmental protection and the protection of their rights and interests is good for the country and the long-term healthy development of the economy. "
The Global Times' Chinese editorial says the lesson in Shifang should be the last of its kind for local government officials.
"Only a faulty choice of location, substandard environmental protection benchmarks and unsuccessful communication between officials and the public would make such projects go against people's benefits," said the editorial.
But the protest in Shifang is not yet over, according to Hong Kong's Ming Pao Daily News . Residents were demanding the release of students detained by the police, with local restaurants refusing to serve police.
In other news, China Daily and People's Daily Overseas Edition report the country's provincial-level Communist Party leadership changes were completed, as Beijing elected its new party chief.
Guo Jinlong, the capital's incumbent mayor and newly-elected party secretary, promised the new party leadership would make every effort to serve its people, said the reports.
Hong Kong's Ming Pao Daily News and Sing Tao Daily say Guo Jinlong is seen as a close aide to President Hu Jintao. Mr Guo could join the powerful Politburo later this year.
The Global Times and China Daily report the Foreign Ministry's reiterated call to the Philippines, urging Manila to co-operate in regional stability amid the ongoing dispute in the South China Sea.
Spokesman Liu Weimin made this comment in response to a remark by President Benigno Aquino that he may ask the US to deploy spy planes over the South China Sea.
China Daily , The Global Times and Shanghai Daily also cover the filing of a lawsuit by a group of fishermen in eastern Shandong province against US oil firm Conoco Phillips, seeking compensation for losses resulting from the Bohai Bay oil spill in June 2011.
Conoco Phillips and its partner China National Offshore Oil Corporation (CNOOC) had agreed to pay $1bn yuan in January for the oil spill.