China morning round-up: Interest rate cut a 'surprise'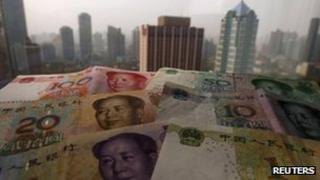 China's latest interest rate cut , its second within a month, indicates that the world's second-largest economy is slowing faster-than-expected, say Chinese newspapers.
The national China Daily says that the cut was "fuelling concerns that the slowdown in the world's second-largest economy is worse than predicted".
The city's China Business News says this signifies that the Chinese economy has been slowing down to the extent that it now needs "resuscitation".
China Daily and People's Daily , say the Chinese government wants to bolster economic growth by adjusting the interest rate.
Shanghai Morning Post describes the latest rate cut as an "emergency cut", with analysts predicting further cuts this year.
Guangzhou's Southern Metropolis Daily notes that China's central bank has also requested financial institutions to maintain mortgage control measures aimed at combating speculation in the housing market.
The Beijing Times editorial says the central bank's move signifies "hunger" for financing in the real economy and that businesses need a lower cost of borrowing in order to survive.
Meanwhile, Beijing News' editorial suggests that China has been paying more attention to international co-operation of monetary policy moves, as indicated by the European central bank's simultaneous rate cut.
In other news, China Daily and People's Daily report on the meeting between Chinese President Hu Jintao and Cuba President Raul Castro in Beijing.
The two countries signed eight agreements covering agriculture, health care and technology, reports say.
The Global Times , on the other hand, discusses a leadership reshuffle in the city of Shifang after the violent mass protests there .
Zuo Zheng, deputy mayor of Deyang city which looks after Shifang, was appointed "first secretary" of Shifang's Communist Party committee. The original party secretary, Li Chengjin, was reassigned "to assist" Mr Zuo.
Hong Kong's Sing Tao Daily describes Mr Zuo as being "parachuted" into Shifang. It also notes that riot police had allegedly injured many protesters by firing "a large amount of tear gas".
Meanwhile, the Global Time bilingual editorial urges people not to "foment youngsters to protest".
"The underage group, immature but passionate, and free of family burdens and social pressure, can easily be misguided by movements initiated by adults," its editorial says.
Beijing News and Beijing Times report on an "advisory" document published by the Supreme Court and other law enforcement agencies that proposes a national database of criminal records.
China Daily and Shanghai Daily have published a report from the Xinhua news agency saying that airports in Xinjiang have tightened security following the hijack attempt in Hotan on 29 June .