New 'late-term abortion' row in China's Fujian province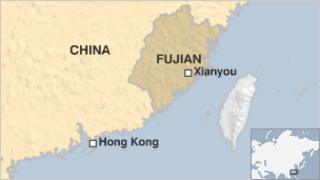 New allegations of forced late-term abortion have emerged in China's Fujian province, a lawyer has told the BBC.
Pan Chunyan's pregnancy was terminated at nearly eight months in April because she had violated the one-child policy, Beijing-based lawyer Zhang Kai said.
Her husband sought legal help after hearing about another recent forced late termination in Shaanxi province.
The case of Feng Jianmei caused outrage when photos of her still-born baby circulated on the internet.
China's one-child family planning policy aims to control the country's population, which now stands at around 1.3bn.
Rights groups say the law has meant women being coerced into abortions, which Beijing denies.
'Fine paid'
Ms Pan and her husband, Wu Liangjie, live in a village in Xianyou county. They already have two children, reports Hong Kong's South China Morning Post.
Mr Wu sought legal assistance last week after being inspired by Feng Jianmei's case, said lawyer Zhang Kai who is also representing Ms Feng's family.
He said the Fujian couple had been fined for breaching the one-child policy.
"They already paid a penalty but the pregnancy was still terminated forcibly," Mr Zhang told the BBC. He said Mr and Mrs Wu's violation of the one-child policy did not give officials the right to terminate the pregnancy.
In an open letter published by US-based aid group China Aid, Mr Wu said "a group of people" took his wife "forcefully" to a local hospital on 6 April after a brief detention, where she was given an injection.
Ms Pan had a still birth two days later.
Local government officials have said nothing so far, said the lawyer. A call by the BBC to the family planning bureau of Xianyou county on Tuesday went unanswered.
Meanwhile, Zhang Kai also confirmed to the BBC that officials in Shaanxi have reached a compensation deal with Deng Jiyuan, Feng Jianmei's husband. Mr Zhang declined to discuss further details.
Officials there were punished for having "violated the laws of central and local government on family planning", China's state-run Xinhua news agency reported last month.