China morning round-up: Submarine dive success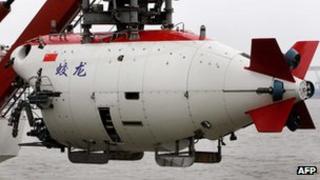 Newspapers mark the return of the Jiaolong submarine after it made China's deepest dive.
The mini-submarine reached a record depth of 23,169 ft (7,062m) in June in the western Pacific Ocean, proving China had the technical capability to explore 99% of the ocean floor, says China Daily .
In a letter read at the welcoming ceremony in eastern Qingdao city, Vice-Premier Li Keqiang said Jiaolong's latest mission marked an important technological breakthrough, People's Daily reports .
The scientists are already planning the construction of a "deep sea station", Shanghai Daily says, where submariners could dock their ship and work inside.
Amid ongoing disputes in the South China Sea, the Global Times and Beijing News report the Jiaolong research team is also proposing a new dive in the area in 2013.
Meanwhile papers including Hong Kong's pro-Beijing Wen Wei Po newspaper report a 30-boat fishing fleet from southern Hainan province began operating in disputed waters in the Spratly Islands.
China Daily, in its editorial , warns Beijing has exercised "the utmost restraint in its response to the provocative actions of the Philippines and Vietnam" so far.
On the East China Sea dispute, an international affairs expert in China told Shanghai Morning Post that Japan should "take all responsibility" for the intensifying row over the Senkaku Islands.
Also on Tuesday, the Global Times and Beijing Times report China has proposed new measures to tackle plagiarism in tertiary education.
The education ministry suggested university students and doctoral degree candidates could face a ban on obtaining other degrees for three years if they were found to have plagiarised other people's work.
Institutions with multiple plagiarism incidents could be disqualified from granting degrees, Beijing News says .