China morning round-up: Property prices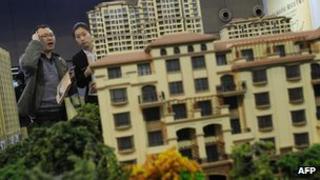 China's property market is apparently stabilising after eight months of decline, newspapers report.
Property prices in 70 Chinese cities rose slightly in June , compared to May, according to data released on Wednesday by the National Bureau of Statistics.
"Interest rate cuts by the central bank as well as growing concern among potential buyers of a price rebound encouraged more people to enter the property market last month, giving rise to boosted sales around the country," the bureau's senior statistician Ma Xiaoming was quoted by Shanghai Daily as saying.
But the bureau insists current purchasing restrictions must continue in order to curb speculation, reports Guangzhou's Southern Metropolis Daily .
Meanwhile, the Global Times says a report released by the National Audit Office found some 3bn yuan ($471m; £301m) earmarked for the construction of government-subsidised housing for low income earners was embezzled in 2011.
Of 66 cities and counties audited, more than half also failed to distribute allocated funding, resulting in delays to construction projects, says Shanghai's China Business News .
Many local authorities also left their subsidised flats vacant for over six months or sold them to the private housing market due to "a lack of return on their investments", according to Guangzhou's 21st Century Business Herald .
China Daily and People's Daily cover a speech delivered by Premier Wen Jiabao to business leaders ahead of the Forum on China-Africa Co-operation ministerial conference in Beijing, which begins today.
Mr Wen said China would expand its imports from Africa, say the reports.
People's Daily also covers meetings between President Hu Jintao with visiting African state leaders and UN Secretary General Ban Ki-moon .
"A prosperous relationship between China and Africa caters to the interests of the two sides and contributes to peace and development in the world at large," said a China Daily editorial .
On the East China Sea dispute, Hong Kong's Ming Pao Daily News and Sing Tao Daily report Chinese businessman and patriotic activist Tong Zeng has applied to the State Oceanic Administration to rent the disputed Senkaku Islands.
The islands, known as Diaoyu in China which are under Japan's control, would be developed into a tourism centre, Mr Tong told the newspapers.
His plan is hailed by the Global Times as "a good idea in grass-roots diplomacy".
The World Health Organisation (WHO) has urged China to tax smokers further as a measure to step up controls in the world's largest tobacco consumer and producer, China Daily reports .
WHO Director-General Margaret Chan made the remarks as she presented a medal of Special Recognition of Contribution to Global Tobacco Control to Chinese Health Minister Chen Zhu in Beijing on Wednesday, said the report.
However, an ecology award given to China's biggest tobacco producer has sparked protests, Shanghai Daily says.
China Green Foundation gave China National Tobacco Corp the award for its "significant contribution to ecological protection", said the report.