Chinese activists 'sentenced' for Hong Kong protests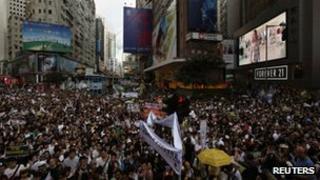 Officials have sentenced two activists from mainland China to labour camp for joining Hong Kong's annual pro-democracy protests, reports say.
Song Ningsheng and Zeng Jiuzi from eastern Jiangxi province face 14 months each for their part in the 1 July demonstrations.
They have been petitioning Chinese authorities to reopen investigations into the deaths of their spouses.
They were among a number of mainland Chinese demonstrators at the rally.
Hong Kong's rally for human rights takes place annually, but has been bolstered this year by anger towards Beijing.
Ms Zeng's son, Liu Zhonghua, told Radio Free Asia on Tuesday that the police told him that his mother and Mr Song "took part in an illegal demonstration".
The two activists are being held at a police station in Jiangxi before being sent to the camp, Hong Kong-based rights group, People's Rights Union of China, told Hong Kong media.
Mr Song's wife and Ms Zeng's husband died in separate incidents under questionable circumstances, the group said.