London 2012: 2.13m Yi Jianlian is China's flag-bearer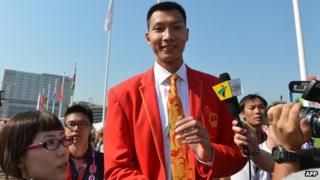 China has picked basketball player Yi Jianlian to carry its flag at the London Olympic Games opening ceremony.
The 2.13m (7ft) NBA player will continue a tradition of Chinese flag-bearers coming - since 1984 - from the men's basketball team.
The team announced the decision at the flag-raising ceremony in the Olympic Village.
Officials hinted earlier the job would go to a "tall, handsome and influential" athlete.
"We can now tell everyone that the delegation's flag-bearer is China men's basketballer Yi Jianlian," Reuters news agency quoted Xiao Tian, China's deputy chef de mission, as saying.
Mr Xiao admitted there were multiple candidates, but said Yi was chosen after "comprehensive consideration".
In two online polls on Sina Weibo - one of China's equivalents of Twitter - Yi was actually beaten by 2011 French Open tennis champion Li Na and Athens Olympics gold medal hurdler Liu Xiang as the most favoured flag-bearer.
But Xiao Tian said given the size of China's delegation, the job must go to someone who is "tall enough and famous enough", the official Xinhua news agency reported.
"I learned the news today that I am going to take such a great honour. I am so grateful," Yi wrote on his accredited weibo account.
"This gives me an extra boost for these games."
Born in southern Guangdong province, Yi began his NBA career in 2007. He went back to China in 2011 and joined a Chinese Basketball Association (CBA) club, but retains an option to return to the NBA.
Since China resumed participation in the Olympics in 1984 after a three-decade absence, all of its flag-bearers have been male basketball players, with an average height of 2.06m (6ft 9in).
Yao Ming, Yi's predecessor, held the post for both the 2004 Athens Games and 2008 Beijing Games, but he announced his retirement one year ago.
However, Yao is still participating in the London Games as a commentator.