China netizens: Gu Kailai charges and Beijing floods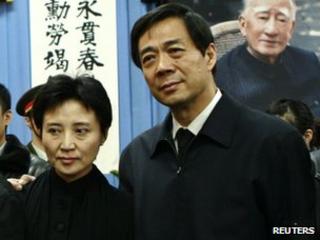 Murder charges for Gu Kailai and the updated Beijing floods death toll provoked numerous posts on China's internet forums a day after both were announced.
The two major developments were announced only a short interval apart by state media on Thursday evening.
On Sina Weibo - one of China's Twitter equivalents - the names of Gu Kailai and her husband Bo Xilai remain censored keywords, as well as related phrases such as "Bo", "Bogu", "Kailai" and "Heywood".
Official news reports were being widely reposted and some netizens were getting round the censorship by using "prosecution" as a keyword.
Many comments asked why the charges were filed in Hefei instead of Chongqing, where Mr Bo was party secretary.
Some suggested higher courts were authorised to divert controversial cases away from the original jurisdiction to avoid administrative interference, but not everyone agreed with it.
"Pressing charges is a step forward for the rule of law," said one Sina Weibo user. "But does it fit the jurisdiction clauses? If it is taken to a third place, then it is a step backwards."
"Let's hope it will be an open and fair trial," another internet user said on the Tianya.cn online forum.
Comments on the updated death toll in the Beijing floods were less censored, but the name of Guo Jinlong, Beijing's Communist Party chief and former mayor, is a censored keyword.
"According to relevant laws, regulations and policies, search results for 'Guo Jinlong' cannot be shown," a search on Sina Weibo returned.
But millions of comments continued to be posted on social media sites. Many people left condolences for those who died and there were lots of critical statements.
"Who killed these people but managed to escape from justice?" asked one user on Tencent Weibo - another major microblogging site.
A small number suggested the authorities internationally put out the two news items near-simultaneously.
"News on prosecuting someone has successfully diverted away people's attention to the floods," one user said on Sina Weibo.
"So you press charges for the death of a foreigner, but turn a blind eye to the death of 77 Chinese? Is it in your view that these 77 Chinese lives were not as precious as one Westerner's life?" asked another netizen.
Other than a bilingual editorial in the Global Times, Chinese mainstream media so far do not appear to have published any commentary on Gu Kailai's charges beyond carrying the brief Xinhua news agency statement.