China activist Ni Yulan's jail term reduced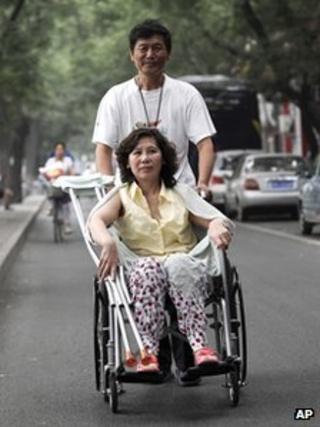 An appeals court in China has dismissed disabled land rights activist Ni Yulan's fraud conviction, reducing her jail time by two months.
Ms Ni, who is a lawyer, will still remain in jail because of a public disturbance conviction.
She had been sentenced to two years and eight months, while her husband Dong Jiqin was given two years.
Both are known for providing legal help to people whose homes have been seized by the government.
Ms Ni attended the court proceedings with her daughter, Dong Xuan.
"At least Chinese law is improving. If we all persevere, there can be results. (But) this is basically a fake case," the couple's lawyer Cheng Hai told AFP news agency.
Ms Ni and her husband were detained in April 2011 and tried in December.
Ms Ni's fight against land grabs began in 2002 after her home in central Beijing was requisitioned and later demolished.
She was banned from working as a lawyer but she and her husband continued to advise others whose land had been seized.
She was sentenced to a year in jail in 2002 for "obstructing official business" and to two years' imprisonment in 2008 for "harming public property".
Ms Ni uses a wheelchair - a consequence, she and her supporters say, of mistreatment by police.