London 2012: Can Liu Xiang conquer his Olympic demons?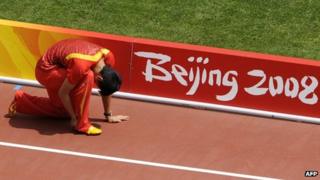 China's most-watched athlete is returning to the Olympic track four years after his hopes for gold were crushed in Beijing.
Liu Xiang, who won a gold medal in the 2004 Athens Olympics, is competing in the men's 110m hurdle competition. Heats take place on Tuesday.
Millions of his compatriots will be willing him on, hoping he can put his Beijing Olympic nightmare behind him.
Then fans watched in shock as he walked out of the Bird's Nest stadium at the very last minute due to leg and heel injuries.
His distraught coach, Sun Haiping, told journalists that the athlete had been "fighting and fighting until the last moment" but ultimately could not run.
The nation mourned the untimely end of their brightest star's medal dreams.
Liu underwent nearly four months of surgery and treatment in the US, before his return to the track in late 2009. The 2010 Guangzhou Asian Games were seen as the point by which he had fully recovered.
Now, at the age of 29, the Shanghai-born superstar is about to experience high pressure again as he sets foot in Stratford's Olympic Park.
Great expectations
The stakes are obviously high.
China's microblogging sites are filled with millions of posts talking about Liu Xiang's return - a major difference from four years ago when the Twitter-equivalents were still in their infancy.
"All I want to see for this Olympics is Liu Xiang! I will climb out of bed to watch the broadcast in the middle of the night!" said one Sina Weibo user in Shanghai.
A Tencent Weibo user in nearby Jiangsu province said: "Brother Xiang, don't let me down!"
But as sports commentator David Yang says, compared to four years ago the public buzz over Liu is calmer and more rational.
"I saw people crying outside the stadium when they learned of his injuries," Mr Yang said of that day four years ago in Beijing.
"I just thought: how come people's emotions have reached such a degree?" the editor of the China Sports Review website told the BBC.
It is not just the expectations of the public that athletes have to contend with, however.
China takes great pride in its athletes and nurtures their talent, but it can also push them to their limits in pursuit of sporting glory.
Shanghai Morning Post published a series of in-depth reports recently on Liu Xiang's life and training regime.
Other athletes at the Xinzhuang training base in southwest Shanghai are served buffet lunches, but Liu Xiang gets even better treatment with dedicated dishes served.
These dishes are nothing extraordinary, apart from some imported beef. But all ingredients are specially selected and tested to make sure they are not contaminated with banned substances.
As a "state athlete", this is all paid for by the government, as well as training and expenses for overseas competition. In return, there is pressure to win.
"For the London Games, if we win a few less gold medals [than Beijing] ordinary people could abuse us," Xiao Tian, deputy chef de mission of the Chinese Olympic delegation, told Guangzhou's Yangcheng Evening News.
David Yang, who interviewed Liu Xiang at the Xinzhuang base last year, told the BBC that Liu was a calm character.
"But what stunned me was at the training base I saw posters and slogans about him, which I found disturbing," Mr Yang said.
"I can feel that kind of pressure - pressure from the state."
He disagrees with China's focus on gold, saying it does not benefit China's overall sporting education. But he says there is still a long way to go for it to change.
'Do my best'
But pressure on Liu could be reduced by the emergence of new stars at this Games.
On Day One, 20-year-old Sun Yang won the 400m freestyle event, making him the first Chinese male swimmer to win a gold medal.
A weibo user from Guangzhou said: "Breakthrough finally! Now Liu Xiang can take some rest!"
A report from the official Xinhua news agency even said: "[Basketball player] Yao Ming has retired, Liu Xiang and [tennis player] Li Na are aging. The Chinese sports arena needs a leader who has international influence in a mainstream sport."
"Fortunately, Sun Yang has emerged."
National pressure aside, Liu Xiang faces a tough task on the track.
After pulling out of the Diamond League London Grand Prix in mid-July, he and coach Sun Haiping flew to Germany for the final preparations.
"It will be difficult for him to take the gold," Xinhua quoted Sun as saying. "American Aries Merritt will be a tough opponent and Liu must try his best."
Liu has promised to do just that. "I am just one of the strong competitors. I will simply do my best," he told journalists last month.
David Yang believes he will be able to handle the stress even if these Olympics do not end in gold.
"For both Liu Xiang and Li Na, this will be their last Olympic appearance. As a commentator or spectator, I think we should just wish them well," he said.