Profile: China swimmer Ye Shiwen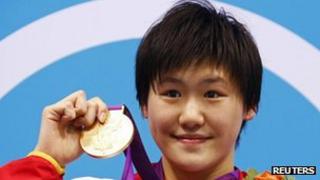 China's latest Olympic swimming star, Ye Shiwen, was just another face in the team until the women's 400m individual medley event on Saturday.
The 16-year-old became an instant sensation when she won the gold medal in dramatic style - shaving a full five seconds off her personal best and breaking the world record by more than a second.
In the last 50m, she swam even faster than the winner of the men's event, US star Ryan Lochte.
Ye, who reportedly started swimming in 2003 after her teacher noticed she had larger hands and feet than other children her age, had lived up to China's expectations.
She became a poster girl for Chinese swimming only months before London 2012, after world champion Li Zhesi tested positive for drugs and was banned.
The Communist Party's newspaper, the People's Daily, has praised Ye's rise to stardom as ''rocket-like''.
'Not overly demanding'
The teenager is said to be from an ordinary, working class family in the eastern city of Hangzhou.
After joining the Zhejiang province team in 2007, and the national team in 2008, she quickly began chalking up victories.
The swimmer won the 200m and 400m individual medley at the 2010 Asian Games in Guangzhou and the 200m individual medley at the 2011 World Championships in Shanghai.
Out of the pool, Ye appears to be no different from any bookish Chinese teen her age, listing her favourite pastimes as watching television and reading detective novels.
But much of her time is spent in the water - she reportedly took only one day off from training after her win at the World Championships.
She has trained in Australia with two renowned coaches, Ken Wood and Denis Cotterell.
Mr Wood, who runs a swimming academy in Brisbane where many of the Chinese swimmers train, told reporters that one of the factors contributing to Ye's speed in the last 50m of her winning swim was her good ''power-to-weight ratio''.
He also painted a picture of the teenager's serious training regime in China. Ye's coach in China is ''very, very tough'' with her, he said, and he had had talks with Ye to ''have a joke and smile''.
But the teenager, speaking after her victory, told state-run China Daily that she was a lucky girl who did not need practise "over and over" every day.
"My training program is intense but scientifically arranged as well. I don't need to spend long hours in the pool every day, and it's not overly demanding for me," she told the newspaper.
Ms Ye says hard work has led to her winning form.
''My results come from hard work and training and I would never use any banned drugs,'' she told the state-run China News Service on Monday. ''The Chinese people have clean hands.''