China morning round-up: Olympic swimmer Ye Shiwen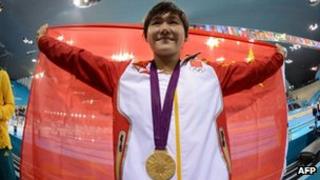 Chinese newspapers rallied round young swimmer Ye Shiwen, as Olympic officials also came to her defence .
The Beijing Times leads with Ye Shiwen's own response to doping suggestions, saying: "Chinese are clean".
"Bias did not defeat Ye Shiwen," said the headline in Shanghai Morning Post , after the women's 400m medley champion won her second Olympic gold in London late on Tuesday.
Replying to questions, China's swimming team head Xu Qi said: "China can also produce talent," Guangzhou's Southern Metropolis Daily reported.
A China Youth Daily commentary ridiculed Western media, saying: "It takes time to get used to something. For instance, if you get used to wearing rose-coloured glasses, you feel dizzy once you take them off suddenly."
The Global Times' bilingual editorial says: "Negative comments about her and Chinese athletes come from deep bias and reluctance from the Western press to see Chinese people making breakthroughs."
People's Daily and many other papers lead with reports on the reception held in Beijing on Tuesday ahead of the 85th anniversary of the formation of the People's Liberation Army (PLA) on 1 August.
In a speech, Defence Minister Liang Guanglie restated Beijing's position that the PLA should remain under the "absolute control" of the Communist Party.
Gen Liang also urged the military to "intensify" preparations for any "military struggle", Beijing Times reports .
A People's Daily editorial warns China is facing "unprecedented external risks", without elaborating. People's Daily only publishes editorials on events deemed extremely important by Beijing.
China Daily and People's Daily Overseas Edition report President Hu Jintao chaired another Politburo meeting.
A statement says the meeting reaffirmed maintaining stable growth as a priority, reports say, as well as cooling the property market.
Beijing also criticised a report from Washington on China's religious freedom, according to the Global Times .
The US State Department report listed China as one of eight "countries of particular concern".
A front-page commentary in the People's Daily Overseas Edition says Washington should not appoint itself "God's mouthpiece".