China morning round-up: Free holiday ride on highways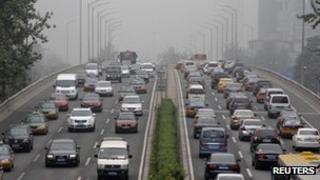 Chinese newspapers take a break from leading with Olympics stories as the country approves a scheme that affects motorists across the nation.
People's Daily reports on its front page the cabinet has approved a proposal for all cars and motor bikes to travel toll-free during four main national holidays, namely the Spring Festival (Chinese New Year), Tomb Sweeping Festival, Labour Day and National Day.
The measure applies to both local toll roads and expressways, Guangzhou's Southern Metropolis Daily says. The announcement ended days of speculation on the internet.
Shanghai Daily, citing comments from Transport Ministry officials, says Chinese motorists will save up to 10bn yuan ($1.57bn; £1.01bn) each year.
Shanghai's China Business News says some toll road operators complained the waiver would cost up to 5% of their annual revenue, but experts believe this would be "money well lost".
Shanghai Morning Post says experts say the policy will help easing congestion at toll gates during these holidays, which in turn will cut car emissions.
But as reports hail the move as the first step towards the total removal of road tolls in China, the Global Times editorial says this is impractical.
It said: "If the tolls are fully waived when the highway operation companies still owe banks billions of yuan in loans, it is not the rich who will subsidise the poor. Instead, people without cars will have to pay back the loans and subsidise those with cars."
China Daily and the Beijing Times continue coverage of the approaching typhoons Saola and Damrey, saying both could make landfall in China near simultaneously.
Beijing News warns Typhoon Damrey could affect Beijing, bringing fresh rain storms to the city just hit by deadly flooding.
People's Daily reports Premier Wen Jiabao issued a further appeal to strengthen flood prevention ahead of the typhoons, especially for cities with poor drainage systems.
The Beijing Times says the Defence Ministry has responded to the latest annual defence report from Japan.
Spokesman Geng Yansheng said Tokyo's report "deliberately exaggerated" China's military threat, calling it a "serious intervention in China's internal affairs".
Beijing Times also reports further criticism of a US State Department report on China's religious freedom. Foreign Ministry spokesman Hong Lei said Beijing did not need Washington to find fault.
The Global Times also says US Secretary of State Hillary Clinton had been targeting China during her African tour, as she "promised support for democracy and human rights in Africa while criticising 'other countries' for eyeing only resources and profit" during a speech in Senegal.
A front-page commentary in People's Daily Overseas Edition warns China "has a lot more measures to tackle 'harassment'". The paper's online edition published the article with links to reports on the Japanese defence report and Mrs Clinton's speech.
Newspapers continue to comment on the badminton row at the London Olympics.
A commentary in People's Daily Overseas Edition criticised Chinese media for denouncing the two athletes who were disqualified for trying to lose in an apparent bid to secure an easier passage to the medal stages.
A second Global Times editorial says it was the rules that "misled the players".
But a Beijing News editorial says the athletes defied the rules by ignoring warnings from the referees.