Heywood murder: China sets Bo Xilai wife trial date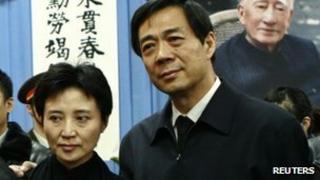 Gu Kailai, wife of Chinese politician Bo Xilai, will go on trial for the murder of British businessman Neil Heywood next Thursday, lawyers say.
Prosecutors announced last week that Ms Gu and Zhang Xiaojun, employed at Mr Bo's home, had been charged with intentional homicide.
Mr Heywood was found dead in a hotel in Chongqing on 15 November 2011.
UK diplomats will be able to attend the trial. Correspondents say that is unusual for such a high-profile case.
A UK Foreign Office spokesman said Britain was committed to seeking justice for Mr Heywood's family and would be following developments closely.
The alleged murder of Mr Heywood triggered Mr Bo's downfall in a scandal that has rocked Chinese politics.
The trial is expected to take place in the eastern city of Hefei, even though the crime allegedly took place hundreds of miles to the west in the city of Chongqing.
Legal experts have previously told BBC Chinese that authorities would have had concerns about the political influence Mr Bo and his family may still exert in Chongqing and whether that would affect a fair trial.
Local officials initially said Mr Heywood died of excessive drinking, but the government announced in April it was investigating Mr Bo's wife in connection with the case.
The exact nature of Mr Heywood's role and his relations with the Bo family have been the subject of much speculation inside and outside China. At the very least, there were close business contacts between the Bo family and Mr Heywood.
Mr Bo, the former high-flying leader of the south-western Chinese megacity of Chongqing, was sacked in March and is under investigation for allegedly flouting Communist Party rules.
He made his name tackling corruption in Chongqing and had been expected to be elected to an important position during the once-in-a-decade leadership change due at the Communist Party congress this autumn.
Analysts say the authorities are keen to resolve the case quickly before China undergoes that politically sensitive transition.