1948 Chinese basketball player revisits London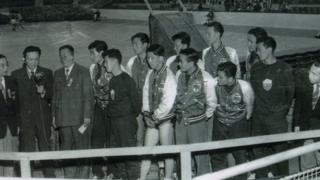 A Chinese basketball player who took part in the 1948 Games in London has returned to the city to watch the current side play Great Britain on Monday.
Wu Chengzhang, now aged 88, is one of only two surviving members of the 33-strong Chinese squad.
Mr Wu scored 32 points in one game but China failed to qualify for the quarter-finals at Harringay Arena.
During his visit he will have lunch with a British basketball player who also competed in the 1948 Games.
China finished 18th after the various classification rounds in 1948, during which they beat Great Britain 54-25.
After the Games, Wu played and coached the sport in his home town of Shanghai until his retirement.
The British Consulate-General, British Airways and VisitBritain combined to make the historic trip possible.
Monday's game between GB and China begins at 1645 BST.