China morning round-up: Olympic badminton glory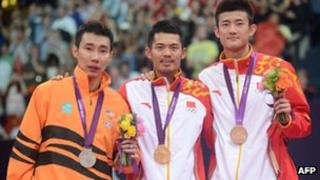 Chinese newspapers mark another day of Olympic victories after badminton player Lin Dan defeated Malaysia's Lee Chong-wei to retain his men's singles champion status.
Regional papers such as Shanghai Daily and Beijing News cover the news extensively, as Lin's victory left China with a total of five badminton golds.
Meanwhile, West China City Daily also reported another "five gold achievement" as gymnast Zhou Kai from Sichuan won his fifth Olympic gold medal.
China Daily publishes a feature on foreign coaches' contributions to China's Olympic success, while People's Daily Overseas Edition says concerns still remain for athletes still to compete in London.
On the other hand, the domestic edition of People's Daily complained in a commentary about what it called double standards, after Chinese players were disqualified from the women's badminton doubles, relegated for a rule infringement at the women's track cycling, and swimmer Ye Shiwen was targeted by the media because of her outstanding performance.
China Daily and People's Daily both publish a feature on men's swimming double gold medallist Sun Yang, emphasising that he won his medals through hard work but not doping.
The Global Times' bilingual editorial says: "No matter what the critics say, sporting achievements attest to the country's progress."
Also on Monday, the Global Times and others report China summoned US diplomats in Beijing to lodge a complaint over a statement from Washington voicing concerns over the increase in tensions in the South China Sea.
China Daily and the Beijing Times publish comments by Vice Foreign Minister Fu Ying, saying China will not allow its disputes with Vietnam and the Philippines to harm China-Asean relations.
China Daily's editorial called Washington's statement "trouble-making", while a People's Daily commentary says Washington's stirring behaviour is nothing new.
Beijing News reports parliament has concluded public consultation on the latest draft amendment to the Budget Law. Some 310,000 suggestions were recorded, it said.
Issues include whether to grant local governments the authority to issue bonds and how parliament could strengthen its capacity to monitor government spending, said the report.
Shanghai's China Business News says academics have appealed for further amendments to the draft law in order to achieve perfection for what they call "the treasury constitution".
People's Daily reports a group of "specialists and grass-root elite" were invited to spend their holiday at the resort area of Beidaihe near Beijing. Among the guests was astronaut Jing Haipeng, who has recently returned from the Shenzhou-9 manned space mission.
There are various government-run resorts in Beidaihe, mainly for the use of central government officials during the summer. The report said this invitation represented China's appreciation of the elite.
Vice-President Xi Jinping met the guests in Beidaihe on Sunday, People's Daily said.