Media quiet on Gu Kailai trial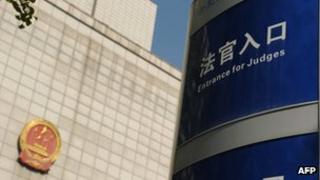 Discussion of Gu Kailai's murder trial appears to have been subject to strict censorship in Chinese media and cyber space.
The wife of the disgraced Chinese politician Bo Xilai went before a court in Hefei city on Thursday, accused of killing British businessman Neil Heywood.
Most Chinese newspapers reprinted the announcement of charges published by the official Xinhua news agency on 26 July, but remained silent in the run up to the trial.
As her trial opened, no reports were observed in major mainland dailies.
On the internet, although netizens continue to post comments on Sina Weibo and Tencent Weibo - China's main Twitter equivalents - more keywords appear to have been censored.
All the main names are blocked, as well as associated phrases such as "Guagua's mother", which refers to Gu Kailai's son Bo Guagua, and "Bo G" with the letter G referring to Ms Gu.
Compared with the hours immediately after the 26 July announcement, posts discussing the trial have gone from millions down to hundreds.
This indicates that a significant amount of posts have been removed within the past two weeks.
'Stirred up trouble'
Some defiant microbloggers appealed for a fair trial, amid a perception that Ms Gu's case is linked to political manoeuvring.
"Anhui's Hefei is where Justice Bao was born. Dear Hefei judges, you must listen to your conscience for the sake of history," a Sina Weibo user said.
Justice Bao Zheng was China's most renowned judge in the 11th Century and is still a name that represents the rule of law in modern China.
Beijing lawyer Ma Wenbin said on his Sina Weibo: "The princess's trial has stirred up much trouble in Hefei even before it begins. The judiciary should face it with an open mind."
The word "princess" refers to Ms Gu, as both she and her husband Bo Xilai are seen as "princelings" - offspring of former Communist Party leaders.
"If she wants to appoint a lawyer, then just let her," said Mr Ma, a reference to the fact that Ms Gu is not being allowed to choose her own lawyer.
Some netizens said she had scant chance of setting a fair trial.
"Why could the government-owned media say that there is abundant and clear evidence if she is going on trial? Isn't it a flagrant act to influence the judgement," a Tencent Weibo user asked.
The same question spread to Tianya.cn, one of China's popular online forums.
"It doesn't matter what you believe. The essence [from the government] is, you must believe this," said a forum user.
Others focus on the fact that the trial date was not officially announced in China - it was the lawyers who confirmed the news, then the UK Foreign Office which said British diplomats would be able to attend the court.
"So you let the British attend the hearings but lock fellow nationals out of all the truth and puzzles?" a weibo user in northeastern Harbin city asked.
"This country is so funny. You tell the people nothing. That leads to speculation and hence to many rumours," said a netizen on the Tianya forum.