China morning round-up: Gu Kailai murder trial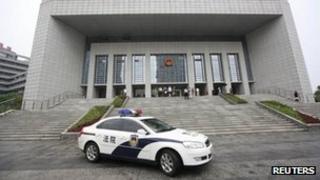 As Gu Kailai's trial begins in eastern Hefei city, mainland Chinese media remains quiet on the case.
The lawyer wife of disgraced top politician Bo Xilai is facing charges of murdering British businessman Neil Heywood.
No mainland papers were observed to carry reports on the trial.
Hong Kong's South China Morning Post says the world's media has descended upon Hefei. The Hefei Intermediate People's Court was guarded by dozens of plain-clothes police, it said.
Macau Daily Times reports local residents had no idea that the trial was taking place in their city.
Ming Pao Daily News says some Bo Xilai supporters came to Hefei hoping to secure a seat in the courtroom, but they were told that it was full.
Sing Tao Daily says press officers at the court also refused journalists' applications to attend the trial.
Local media in Hefei, such as Jianghuai Morning News, focus on the impact of Typhoon Haikui as it heads for the city after making landfall in Zhejiang on Wednesday.
Shanghai Daily and People's Daily report some two million people have been evacuated in Shanghai, Zhejiang, Jiangsu and Anhui.
Shanghai's China Business News says Typhoon Haikui had caused at least 10bn yuan ($1.57bn, £1bn) of economic loses in Zhejiang province alone.
Shanghai Morning Post says China's financial capital has survived the major rainstorm brought by Haikui, amid recent worries that the coastal city might not be able to withstand a flood as severe as the Beijing flooding in July.
Hurdler Liu Xiang's exit from the London Olympics is still a major topic in national newspapers, as the Global Times says the nation was "torn".
"Amid the flood of comforting words were loud sceptical voices from both the public and media, accusing Liu of copying his act from four years ago under pressure," said the report.
Shanghai Daily and China Daily report Liu is to undergo surgery in London on Thursday to treat a torn Achilles tendon.
Beijing Times suggests Liu's injuries might have been caused during his pre-Olympics training in Germany. It also reports State Councillor Liu Yandong called Liu Xiang personally on Wednesday ''to express sympathy and concern'' on behalf of the cabinet.
People's Daily publishes a front-page commentary in its domestic edition praising Liu for his defiant spirit.
While's Liu's failure led to further debate on China's gold-oriented sporting system - known as the Nationwide System - a People's Daily feature says the system must be maintained.
Also on Thursday, China Daily and Beijing News say the railway ministry has found construction defects on 12 new railways, including a few bullet train services.
Guangzhou's Southern Metropolis Daily urges immediate repair for the sake of passenger safety.