Hong Kong court orders eviction of Occupy protesters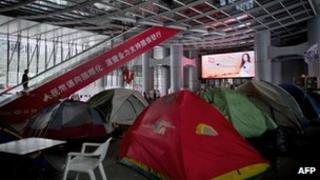 A Hong Kong court has approved the eviction of the last few protesters of the anti-capitalist Occupy movement in the city's financial district.
The protesters have to leave the area near HSBC bank by 27 August, where they have been since October.
HSBC on 16 July had asked a court to evict the protesters, saying it intends to use the area for community events.
The protest is inspired by the Occupy Wall Street movement in New York and is aimed at highlighting inequality.
Protesters had pitched tents in an alleyway on the ground floor of HSBC's building, even as the bank said it owned the property.
At the height of the movement, hundreds of activists occupied the area.
But only about a dozen tents remain nowadays, and the area has become an unofficial shelter for homeless residents and frugal travellers, says the BBC's Juliana Liu in Hong Kong.
"The defendants can't provide sufficient reason to continue to live on the property so the court has decided to allow the plaintiff to take back the property," magistrate Reuden Lai was quoted by Agence-France Presse (AFP) news agency as saying.
"We welcome the decision of the court and look to the occupiers to follow the terms of the court order," HSBC spokesman Gareth Hewett told AFP.
Some protesters said they would try to find another place to protest.
The protesters of the Occupy movement in New York were removed in November, while those in London were evicted from Finsbury Square in June.