China launches hunt for suspected 'bank killer'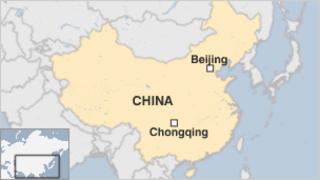 China has launched a "massive manhunt" for an armed robber accused of killing at least nine people since 2004, state-run media report.
Zhou Kehua, 42, targets people withdrawing money from banks, Xinhua news agency says.
On Friday he reportedly killed a woman outside a bank and later a policeman in the south-western city of Chongqing.
Police are searching for him in a mountainous area where he is thought to be hiding, China Daily newspaper says.
Mr Zhou currently has a 5.4m yuan ($850,000, £542,500) bounty for his capture, officials say.
Authorities have described him as "ruthless and highly dangerous" and said he had become adept at dodging police, Xinhua said.
"We have not seen this kind of cold-blooded killer in years," an unnamed police official was quoted by Xinhua as saying.
Mr Zhou was born in rural Chongqing, police say.
He is believed to have worked in other cities in the last 25 years, including as a porter at a railway station, and also served time in Yunnan province for trafficking firearms, Xinhua says.