China morning round-up: Gu Kailai and islands row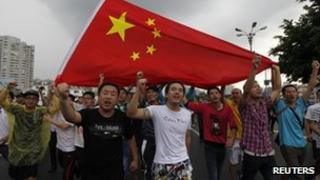 Early on Monday, newspapers in mainland China remained silent on the verdict in Gu Kailai's murder trial.
Hong Kong newspapers including Sing Tao Daily and the AM730 newspaper discuss the possible fate of the wife of disgraced politician Bo Xilai.
Mainland Chinese newspapers are also mostly quiet on anti-Japan demonstrations in various Chinese cities over the territorial dispute in the East China Sea.
China Daily, citing the official Xinhua news agency, says protests broke out in more than 10 Chinese cities, including Chengdu in central Sichuan province. But the report gives no details of individual demonstrations.
Shanghai Daily publishes Xinhua's report on page two. It mentioned damage to Japanese cars and restaurants in Shenzhen city, which borders Hong Kong.
Hong Kong's Ming Pao Daily News says Shenzhen's protest was the most violent, with demonstrators complaining that riot police should not turn against fellow Chinese. Its editorial says destruction to property during the demonstrations would only "grieve one's friends and gladden one's enemies".
A front-page commentary in China Youth Daily says although people's patriotism should be respected, those who committed vandalism should also be harshly punished.
The Global Times' bilingual editorial, which calls for national unity, says: "China will launch a reciprocal competition with Japan over Diaoyu [islands, known as Senkaku in Japan]. For example, if Japan sends Self-Defence Forces, it should expect the participation of China's navy ships."
Also on Monday, China Daily and People's Daily report Muslims in China's western Xinjiang and Ningxia regions celebrated the start of the Eid al-Fitr festival marking the end of Ramadan.
And China Daily reports Miss China Yu Wenxia was crowned Miss World at the finals held Saturday in the Inner Mongolian city of Ordos, watched by an estimated one billion viewers worldwide.
The city on the edge of the Gobi Dessert is said to be China's biggest ghost city.