Bo Xilai scandal: Netizens criticise Gu Kailai's sentence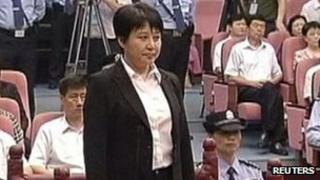 Chinese netizens responded immediately on China's various Twitter-like weibo microblogging platforms after Gu Kailai's sentence was revealed.
The names of some of the key players in the case - Bo Xilai, Neil Heywood - remain blocked, but it appears that controls over the name Gu Kailai have been relaxed on some sites.
At least two million posts containing the phrase "suspended death sentence" accumulated on Sina and Tencent weibos within two hours.
There are still signs of censorship among these - search results display irregularly and are accompanied by a message which says: "According to relevant laws and regulations and policies, part of the search results are not displayed."
But the censorship does not deter people from expressing their opinions, which in most cases consists of disapproval of what is seen as a light sentence.
'Prince versus commoner'
Many microblog users asked why Gu Kailai received a suspended death sentence when other people convicted of murder in China would be executed.
Beijing rights lawyer Liu Xiaoyuan asked on his accredited Tencent Weibo: "Let us think - if it were an ordinary citizen who killed a foreigner for economic benefit, what would the verdict be?"
A Sina Weibo user in Guizhou province says: "Let's abandon the death penalty altogether! China has no bigger criminal than her, yet she is not sentenced to death?"
Others expressed discontent over perceived unfair treatment.
"If you apply it well, mental illness can work magic," commented one user in Guangzhou city. "Some use it to get acquitted, such as getting a death penalty suspended. Others use it to convict, such as forcing someone into mental illness treatment. So whether you want to get mental illness or not depends on your identity."
A Shanghai resident suggested the Communist Party was protecting its own.
"Even in the feudal age we know that a prince who committed a crime was punished like a commoner," the netizen said. "Why can't a party which claims to be mighty, glorious and always correct understand this theory?"
And in apparent reference to fugitive "bank killer" Zhou Kehua, shot dead in Chongqing, a weibo user in Henan province said: "A commoner in Chongqing who killed somebody can be shot dead without trial; the wife of the [former] Chongqing party secretary killed someone and just get a suspended death penalty?"
One Beijing user pointed out there was more to come: "Now we have Bogu Kailai's verdict. Next we should expect the result on how her husband [Bo Xilai] is to be tackled."
There is also speculation that Gu Kailai could eventually regain her freedom.
"Could there be a better script?" a user in Jiangsu province asked, predicting Gu Kailai will be given life imprisonment after two years and eventually leave jail on medical parole.
A Beijing resident said on Tencent Weibo: "Things just look different if you have some guanxi [connections]. A suspended death penalty is like nothing - just a year or two and she will be out."
Among the many messages, there are very few in support of Gu Kailai.
"Sister Kailai, let's face reality: It's fate," said a user in Changchun city. "At least I still support you."
And a resident in Guangxi said: "Suspended death penalty, this is probably the best outcome. You are always the lawyer of my heart."