China morning round-up: Liu Xiang row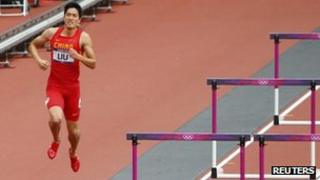 China's state broadcaster is in the media spotlight on Friday amid a row over hurdler Liu Xiang.
China Daily and the Global Times report the official China Central Television (CCTV) is facing criticism after information was leaked that some CCTV executives knew about Liu's injuries ahead of the London Olympics and prepared scripts for possible race outcomes.
The CCTV anchor was accused of "playing up the drama" by some media representatives and netizens, China Daily reported.
A Beijing News commentary says if details of Liu's injuries had been revealed ahead of the Games, people would not have been shocked by his fall.
Shanghai Daily and Guangzhou's Southern Metropolis Daily report the Ministry of Housing and Urban-Rural Development "is closely monitoring changes in the real estate market".
Economists told Shanghai's China Business News that recent interest rate cuts by the central bank had boosted the housing market, but the government did not want to see a new influx of cash that would create a new bubble.
A People's Daily front-page commentary in the domestic edition urges people "to stay clear-headed", saying they should not believe the economic crisis is over simply because of falling consumer prices.
More papers comment on the measures announced on Wednesday by the Chinese cabinet to simplify application procedures to set up businesses.
China Daily's editorial says: "The former ubiquity of government reviews and approval requirements proved a fertile hotbed for the practice of rent-seeking. Many corruption scandals involving behind-the-scenes deals took place in the approval process."
China Business News' editorial says the Chinese government is still "regulating a lot of matters that they should not regulate", blocking market competition and curbing productivity.
Southern Metropolis Daily's editorial says society has already reached a consensus that only a "small government, big market" system can ensure healthy long-term economic growth.
China Daily reports on its front page how delegates for the upcoming 18th national congress of the Communist Party were selected under "strict criteria", while saying the date for the congress "has yet to be announced".
China Daily and Shanghai Morning Post preview a three-day visit to China by Egyptian President Mohammed Morsi, which will begin on Tuesday.
Experts say Mr Morsi's visit signifies a shift in Cairo's pro-US foreign policy under former president Hosni Mubarak, said the reports.
The Global Times and Southern Metropolis Daily report two trains collided in northeastern Jiamusi city on Thursday, causing minor injuries to dozens of passengers.
Initial investigations show the accident happened when workers were coupling two compartments together.
Shanghai Daily and Hong Kong's Ming Pao Daily News report police in Xian city have set up an internal investigation amid allegations that some police officers collaborated with prostitutes to catch and fine their clients.
Beijing Times' editorial says the practice, known as "law enforcement phishing" has been adopted by traffic wardens and social welfare officers recently. It calls for effective regulations to prevent such corruption.