Japan seeks China probe into ambassador's car flag attack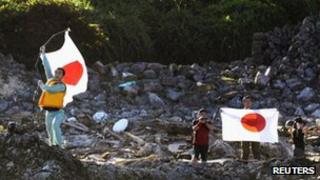 Japan has called an incident in which an unknown man ripped the flag off a car carrying its ambassador in Beijing "very regrettable".
Foreign Minister Koichiro Gemba said Tokyo wanted a police investigation into the case.
Japan is also set to send a letter to Chinese President Hu Jintao, local reports said. Mr Gemba said it was key to "exchange opinions now" on ties.
China is ''seriously investigating'' the flag incident, state media said.
Relations between the two nations have been tense amid a row over disputed islands in the East China Sea.
"This is very regrettable - the national flag shows a country's dignity and it is a principle of international law that you must respect it," Mr Gemba said.
"We have strongly requested for a police investigation and the prevention of a recurrence of this incident."
Senior Vice-Foreign Minister Tsuyoshi Yamaguchi is expected to leave later in the day to deliver the letter to Beijing, Japanese media said. Kyodo news agency, citing officials, said it would call for better ties.
On Monday Japanese officials said two cars forced ambassador Uichiro Niwa's vehicle to stop before a man jumped out and snapped off the flag. Mr Niwa was not hurt.
China's Xinhua news agency quoted the foreign ministry as saying it was committed to protecting "the safety of foreign embassies and personnel".
China and Japan both claim sovereignty over an island grouping in the East China Sea called Senkaku in Japan and Diaoyu in China.
Japan administers the islands, but China says the rocky grouping has been part of Chinese territory since ancient times.
The disputed islands sit in key shipping lanes and are thought to lie close to gas deposits.
Pro-China activists and Japanese nationalist groups have both landed on the islands in recent weeks, pushing the issue to the top of the political agenda and provoking anti-Japanese protests in several Chinese cities.
Late on Monday, the US said it was concerned about the tensions between China and Japan.
"We have regularly... urged these two countries to work this out peacefully," state department spokeswoman Victoria Nuland said.