Hong Kong's democrats retain veto power in poll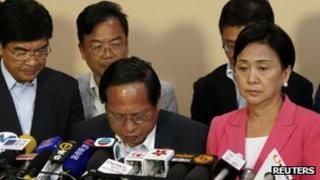 The pan-democratic camp has won 27 of 70 seats to retain veto power in closely-watched elections to Hong Kong's legislative council.
But the leader of the biggest pro-democracy party has quit over its poorer than expected performance.
Albert Ho stepped down as chairman after his Democratic Party won six seats, down from eight.
Voter turn-out among the 3.5m electorate was over 50%, higher than the previous legislative poll in 2008.
The high turn-out followed protests over plans to introduce mandatory patriotism lessons in schools in Hong Kong. A day before the polls, the plans were scrapped by Chief Executive CY Leung.
The election campaign was also dominated by issues such as employment, corruption and the growing number of visitors from mainland China.
'Increasingly impatient'
Results showed pro-democracy groups had retained one-third of the legislative seats, which they need to veto constitutional amendments - including democratic reforms. Beijing says it will allow Hong Kong residents to choose their leader by 2017.
However the democracy camp had been expected to perform better, amid strong anti-China sentiment.
For the first time, 40 of the 70 seats on Hong Kong's governing legislative council were directly elected.
Under the current laws, the rest were chosen by small groups of electors selected along economic and professional lines.
The pan-democrats were not as well-organised as the pro-Beijing parties; they tried to make Hong Kong's complicated electoral system work in their favour, but often the tactics failed, says the BBC's Andrew Wood in Hong Kong.
"We have more votes but less seats. This is a tragic result," Reuters news agency quoted pro-democracy Civic Party lawmaker Ronny Tong as saying.
Albert Ho said he was stepping down to take responsibility for what he called the party's "serious failure" in the election.
He also said that people in Hong Kong were becoming "increasingly impatient" with the pro-Beijing government.
"I think a lot of voters have decided to choose some people who... play a much more aggressive role in the Legislative Council," he added.