China morning round-up: Disputed islands' sale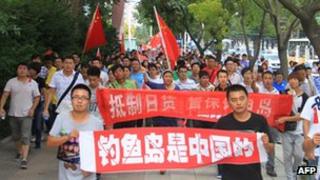 Newspapers across China continue to berate the Japanese government for its purchase of disputed islands in the East China Sea.
Japan confirmed on Tuesday it had signed a contract to buy three of the islands - known as Senkaku in Japan and Diaoyu in China - from their private Japanese owner.
China Daily leads its coverage with a statement from the Defence Ministry. Spokesman Geng Yansheng said: "We are closely watching the development of the situation and we reserve the right to take countermeasures."
People's Daily publishes a report carrying the same comment on the front page, accompanied by statements from the National People's Congress (NPC) and the Chinese People's Political Consultative Conference (CPPCC) denouncing Japan's move, as well as a report saying China has begun issuing weather forecasts for the islands.
A front-page commentary in the People's Daily Overseas Edition urged Chinese authorities "to suppress Japan's arrogance", warning it will bring "endless trouble to East Asia".
Beijing News reports comments by Vice-Premier Li Keqiang saying Japan's stance on the islands dispute is a "blatant denial of the victory of global anti-fascism warfare".
Shanghai Daily and Hong Kong's Ming Pao Daily News say some people in mainland China have cancelled Japanese holiday bookings over the issue.
Ming Pao reports a press conference on the 2012 Shanghai International Marathon - which is sponsored by a Japanese firm - was called off abruptly, with sources saying it was an order from the municipal government.
The Beijing Times says diplomatic experts warn that if Japan ever builds military facilities on the islands, China-Japan relations will go "completely out of control".
The Global Times' bilingual editorial says Chinese people should "discard the illusion of friendly ties with Japan".
The editorial says: "Its (Japan's) behaviour toward the US and Russia demonstrates its inferiority toward strong countries. China cannot repeat what the US and Russia did to Japan, but a lesson is necessary to dispel its contempt toward China since the Meiji Restoration [of 1868]."
Papers such as China Daily and Shanghai Morning Post also cover an address by Premier Wen Jiabao at the World Economic Forum in Tianjin extensively, describing it as a wrap-up of his 10-year premiership.
The Global Times says Mr Wen defended his economic policies over the decade, while experts told Guangzhou's 21st Century Business Herald that he laid out more ways in which China will tackle an economic downturn.
Mainland Chinese newspapers still make no mention of the whereabouts of Vice-President Xi Jinping, absent from public engagements for 10 days, while Hong Kong's Ming Pao Daily News, Sing Tao Daily and the AM730 newspaper cite a report from the New York Times saying Mr Xi might be recovering from a mild heart attack.
China Daily Hong Kong Edition reports Hong Kong's Chief Executive Leung Chun-ying said that a complete withdrawal of the controversial Chinese patriotic education classes "would not comply with Hong Kong's spirit as a free and pluralistic society".
Mr Leung's comment came as some 8,000 university students staged a city-wide class boycott on Tuesday to protest against the scheme, reports the Hong Kong Standard.