China morning round-up: Military drills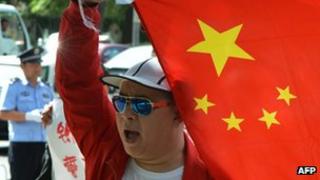 Chinese newspapers report the military has been conducting a series of live-fire drills amid Japan's purchase of disputed islands in the East China Sea.
Japan bought three of the islands - known as Senkaku in Japan and Diaoyu in China - from their private Japanese owner on Tuesday.
Shanghai Morning Post says the drills are reaching a climax, including a naval exercise in the Yellow Sea, as well as army and air force drills in southwest China's deserts.
Beijing Times reports exercises on retaking islands by force are included.
A senior Chinese foreign ministry official said China "will never acknowledge Japan's illegal grab and so-called actual control of the Diaoyu Islands", China Daily reports on its front page.
A front-page commentary in the People's Daily Overseas Edition says calculation by Japan's politicians "appeared to be smart, but [was] actually stupid".
The domestic edition's commentary says Japan was merely getting smart with China, something that prevents Japan from "becoming a dignified normal country" - a tone that was seen during Japan's detention of a group of activists from Hong Kong who landed on the islands in August.
The Overseas Edition also reports comments from Beijing's Taiwan affairs' officials that the two sides should unite in tackling the islands' dispute. Taipei, which also claims the islands, has condemned Japan's move.
The Global Times' bilingual editorial says: "China treasures peace. But we are gradually realising among seemingly endless provocations from neighbouring countries that a firm response to the provocateur is also a must for securing a peaceful environment."
Meanwhile, Hong Kong's Ming Pao Daily News says the group of activists who were detained by Japan in August could attempt to land on the islands again next week.
Also on Thursday, China Daily and People's Daily report the Chinese cabinet has approved a series of new measures to boost the economy, including the acceleration of tax rebates for exporters and the expansion of imports.
Shanghai's China Business News suggests these are direct measures to stimulate trade, and the tax rebate speed-up could benefit many small and medium-sized firms.
After days of absence from public engagements, Vice-President Xi Jinping has been mentioned in state media for the first time.
Guangxi Daily says Mr Xi and other members of the powerful politburo have expressed condolences to the family of Huang Rong, a veteran Communist Party official in the Guangxi autonomous region. Mr Huang died on 6 September at the age of 102.
Beijing News reports anti-tobacco campaigners are furious about a plan by Yunnan province to increase tobacco production in order to pay for relief efforts for the recent earthquake.
Campaigners filed petitions to the National Development and Reform Commission, said the report, while the Yunnan government denied the plan.
Shanghai Daily and the Beijing Times report the railway ministry will launch a mobile phone ticketing system ahead of the eight-day-long Mid-Autumn Festival and National Day holidays. Railway ticketing during major holidays is a big issue in China with endless queues at stations across the country as well as scalpers in active operation.
As Apple unveiled its latest version of the iPhone, China Daily says traders in China are already receiving pre-orders for iPhone 5 over the internet, while China Business News questions iPhone 5's ability to rescue the US economy.