China morning round-up: Anti-Japan protests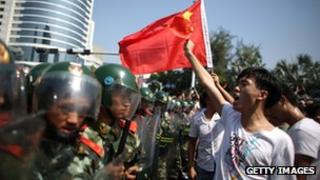 Newspapers condemned anti-Japan protests across Chinese cities over the weekend as they turned violent.
Protests were reported in dozens of Chinese cities on Saturday and Sunday in an escalating row over disputed islands in the East China Sea. Riot police were deployed in southern Shenzhen city to disperse angry crowds.
Most of the editorials and commentaries wrote in support of China's sovereignty over the islands, known as Diaoyu in China and Senkaku in Japan, but lambasted protesters for violence.
A brief commentary on the front page of People's Daily said Chinese demonstrators should remain law-abiding and civilised. Destroying private properties of fellow Chinese, or attacking Japanese citizens in China, are "extremely inappropriate", it said.
China Daily's editorial calls for "anger management" in society. It said: "When people's anger is directed at the wrong targets and displayed in ways that result in vandalism, physical attacks, and damage to private property, it is criminal and must be stopped."
A second editorial in the newspaper urged Japan to act responsibly over the dispute.
China Youth Daily said irrational demonstrations in China are exactly what Japan's rightist activists - "represented by [Tokyo governor] Shintaro Ishihara" - are looking for.
Hong Kong's Ming Pao Daily News warned that violent protests will only hamper China's diplomatic efforts to reclaim the islands.
The Global Times' bilingual editorial said: "Mainstream society clearly opposes violent protests this time. There is no reason to suspect that the government is turning a blind eye to the violence seen over the weekend. This is simply the view of those who make a habit of criticising the government."
Meanwhile, a front-page commentary in the People's Daily Overseas Edition urged China to fire its "economic gun" on Japan, targeting industries such as manufacturing and financial services. It asked whether Japan is ready for its economy to be set back 20 years.
In its latest diplomatic effort, China Daily and Beijing News reported, the Chinese government will submit documents concerning the outer limits of the continental shelf in the East China Sea to the United Nations.
Meanwhile, The Beijing Times and Ming Pao Daily News said that around 1,000 fishing boats from Zhejiang and Fujian province had set sail for the disputed islands as the summer fishing moratorium for the East China Sea ended.
An opinion poll released by the Global Times showed that 89.7% of the 1,509 respondents believe China should ''take more measures'' against Japan.
In other news, China Daily reported that five people have been detained by the police in connection with the platform lift plunge that killed 19 people on 13 September in the city of Wuhan in Hubei province. Another report in the Global Times said that some families of the victims have received compensation.
Shanghai Daily and China Daily said a 72-hour visa-free scheme will soon be launched for foreigners in transit in Beijing to attract more tourists. The scheme would bring 400m yuan ($63.34m; £39.04m) of income annually to Beijing, said the reports.
Hong Kong's Ming Pao Daily News and Sing Tao Daily reported that Hu Jiwei, former chief of the People's Daily, died from illness in Beijing on Sunday morning, just one day after his 96th birthday.
Mr Hu was hailed as a veteran liberal member in the Communist Party, said the reports. He was removed from party and government posts in 1990 after he launched a petition against the 1989 Tiananmen Crackdown.