China morning round-up: Wang Lijun trial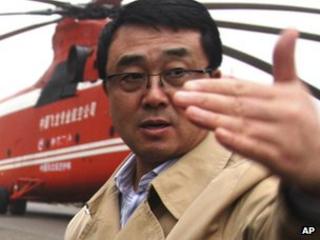 Most newspapers in mainland China have remained silent on the trial of Wang Lijun, the former police chief of Chongqing in central Chengdu city.
Wang Lijun is charged with defection, abuse of power and bribe-taking.
Qingdao's Peninsula City News on Tuesday was one of the few that reported on the trial. Many people in Chengdu did not know that the trial was about to take place there, the paper says.
Meanwhile, Hong Kong newspapers like the South China Morning Post and Ming Pao Daily News reported that the trial secretly opened on Monday.
South China Morning Post says Mr Wang's defence lawyer, Wang Yuncai, had declined to say whether Wang Lijun pleaded guilty at the secret trial or if she entered a not-guilty plea on his behalf.
Ming Pao says Ms Wang was appointed chief legal adviser to the Chongqing police force when Mr Wang was police chief, specifically assisting the anti-gang task force.
Sing Tao Daily says the verdict on Wang Lijun's trial would be announced before the end of this month to clear hurdles for the expected Communist Party congress that will see China's once-in-a-decade leadership change.
Newspapers such as the Chongqing Economic Times, Chengdu's West China City Daily and Shanghai Daily led with nationwide events remembering the anniversary of the 1931 Mukden incident amid ongoing tension between China and Japan over the disputed East China Sea islands.
The incident marked the beginning of Japan's invasion of north-east China in World War II. China holds events every year urging people not to forget the "national humiliation".
Beijing News quotes the Foreign Ministry as saying that Japan should take responsibility for causing tension between the two countries, after it purchased three of the islands known as Senkaku in Japan and Diaoyu in China.
Shanghai Morning Post reported on the impact on China-Japan tourism as two Chinese airlines suspended a charter service to Japan and postponed the launch of another new route.
A commentary on the front page of the domestic edition of People's Daily urged people to hold anti-Japan demonstrations in a civilised manner. The Global Times also has a selection of comments on its front page, appealing against acts of vandalism.
A front-page commentary in the People's Daily Overseas Edition says damaging private property owned by Chinese - as seen in protests last weekend - was derailing China's effort in the "struggle with Japan".
A bilingual editorial of the Global Times says: "Enlarging the gap in strength is key to consolidating its strategic superiority over Japan. Japan is not scared of Chinese protesters or public opinion, but it would be dreadful for it if China continues to rise."
Meanwhile, China Daily's editorial criticised visiting US Defence Secretary Leon Panetta for supporting Japan on the islands dispute.
"Panetta should clarify why, if the US does not have a position in the dispute, his country seems to have extended coverage of the security treaty, meant to protect Japanese territory, to include the Diaoyu [Senkaku] Islands, which are legally Chinese territory as the US well knows," the editorial says.
China Daily and the Beijing Times reported on the trial of Naw Kham, a Burmese national accused of leading attacks on two Chinese ships in the Mekong river in October 2011 that killed 13 Chinese sailors.
Beijing News published a multi-page special detailing police findings on the case. Naw Kham's trial will begin on Thursday in Kunming, capital of south-west China's Yunnan province.