China morning round-up: China-Japan ties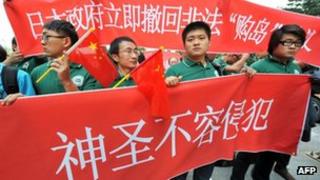 Newspapers report the cancellation of a ceremony to mark 40 years of ties between China and Japan amid an ongoing dispute over an East China Sea island chain.
China Daily and the Global Times report the story on their front pages, accompanied with photos of anti-Japan protests in Taiwan over the weekend.
An international expert in Beijing told Hong Kong's Ming Pao Daily News Beijing's decision to postpone the event symbolised a "full-scale deterioration" of China-Japan relations.
The Beijing Time's editorial says it is not the right time to hold celebrations as "some people from the Japanese side are still provoking [further disputes]".
A front-page commentary in the People's Daily Overseas Edition warns Japan of "further anger" to be expressed by "the great nation", saying Chinese people and firms have the right "to change their choices of consumption and investment based on their own taste".
Another commentary in the domestic edition - which is promoted on the People's Daily website as the front-page top story - says Japan is "playing tricks" at the United Nations to defend itself over the dispute.
China Daily's editorial takes its aim at a US-Japan joint naval drill in Guam. It says: "The US pivot to Asia and the re-balancing of its armed forces are aimed at just one thing: containing China's rise."
Meanwhile, Shanghai Daily reports police in Shenzhen published photos of 20 people suspected of assault and vandalism during recent anti-Japan protests. Guangzhou's Southern Metropolis Daily says five of them have turned themselves in so far.
A Beijing News editorial says those who committed similar crimes must be brought to justice.
Shanghai Daily and Hong Kong's Sing Tao Daily report China's first aircraft carrier was handed over to the navy on Sunday at the port of Dalian.
A defence expert in Taiwan told Sing Tao Daily the handover put psychological pressure on China's neighbours, especially those with territorial disputes.
People's Daily and Beijing News report the surprise visit by Zhou Yongkang, China's internal security chief, to Afghanistan. Mr Zhou and Afghan President Hamid Karzai have agreed to co-operate in combating the East Turkestan Islamic Movement (Etim).
China says Etim is responsible for unrest in western Xinjiang region, home to its Muslim Uighur minority. The militants say they are fighting to liberate Xinjiang from Chinese occupation.
Sing Tao Daily and its sister paper Hong Kong Standard say protests against an anti-Islam film reached Hong Kong on Sunday. Protesters scuffled with police outside the US consulate general in what is believed to be the biggest protest in Hong Kong by its Muslim community, said the reports.
Shanghai Daily and Shanghai Morning Post report the opening of a new outlet of the US coffee giant Starbucks sparked criticism from Chinese internet users.
Netizens say the coffee shop, located in a garden outside a famous Buddhist temple, is a "humiliation" to the Chinese culture.
Meanwhile, the top story of the day - the sentencing of former Chongqing police chief Wang Lijun - is not mentioned by any major newspapers.