China highway tourist bus fire kills six in Tianjin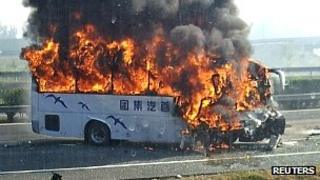 Six people were killed after a tourist bus crashed and caught fire on a highway near China's capital Beijing, state media report.
The coach ran into a lorry in the port city of Tianjin and was then engulfed in flames, the official Xinhua news agency said.
Five of the dead were German tourists, police said.
The incident happened as travellers packed the country's highways during a week-long national holiday.
Tianjin police said the incident happened at 08:30 local time (00:30GMT) near the intersection of the Beijing-Tianjin and Beijing-Shanghai highways. Fourteen other people were injured.
Xinhua said the group were travelling in a tour group organised by a Beijing travel company. It was unclear how many people were on board, it said.
About 700 million people are expected to travel during the eight-day Mid-Autumn Festival and National Day holiday, also known as the Golden Week.