China morning round-up: National Day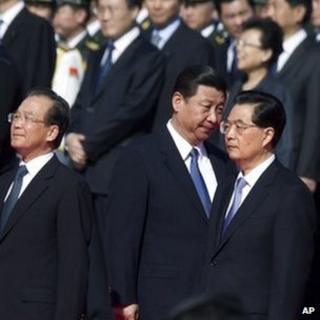 Newspapers report official activities marking China's National Day.
China Daily and People's Daily report events in and around Beijing's Tiananmen Square. Members of the powerful politburo, including President Hu Jintao, Vice-President Xi Jinping and Premier Wen Jiabao, paid tribute to those who fought for the Communist republic at the Monument to the People's Heroes.
This is believed to be the last National Day ceremony under the current leadership before the 8 November Communist Party congress, where new leaders will be revealed.
Beijing News says around 80,000 people attended the daily flag-raising ceremony in Tiananmen Square on Monday at dawn.
Guangzhou's Southern Metropolis Daily and other papers in mainland China also report the boat crash in Hong Kong.
Sing Tao Daily and many Hong Kong newspapers lead with the crash. Ming Pao Daily News called the crash "a big maritime disaster on National Day".
Meanwhile, after nationwide traffic jams, Shanghai Daily and Southern Metropolis Daily say most highways enjoyed a smoother run on the second day of the toll-free period.
China Daily and Beijing News report the coach fire horror in Tianjin. The driver and five German tourists on board were killed.
Also on Tuesday, Beijing News and Shanghai Morning Post report the death of renowned Chinese scholar and author Nan Huai-chin, also known as Nan Huaijin, in eastern Suzhou city on 29 September. He was 95.
Mr Nan specialised in all three major Chinese schools of philosophy - Confucianism, Buddhism and Taoism - and published many books promoting Chinese culture and philosophy.
Hong Kong's Ming Pao Daily News and Sing Tao Daily reported Mr Nan's death on Monday. They said Mr Nan also acted as a secret envoy and contributed to the first talks between Taiwan and China in the 1990s.