Killing time on China's holiday highways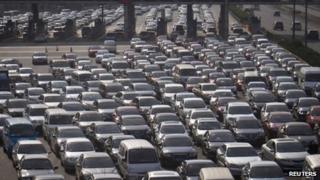 When people in China think about the mid-autumn festival, they think about the moon, family reunions, and eating moon cakes.
But in recent years the festival has taken on a new meaning - traffic chaos.
Roads are clogged as millions and millions of people traverse the country during the "golden week" holiday.
This year has been particularly bad for two reasons. More people chose to travel because the holiday coincided with National Day and so stretched to eight days.
And this year travel was cheaper, because the government waived highway tolls for the first time ever during a holiday period.
The Ministry of Transport said about 85 million people used the expressway network on 30 September, the first day of the holiday, 13.3% more than the same period in 2011.
Congestion eased somewhat on the second day - but the next travel peak is expected this weekend, when people crowd back onto the roads to return to work.
A microblog user in Guangzhou said she was praying for a jam-free journey home, having cut short her visit to Jiangxi to avoid the weekend peak.
Another in Henan said she was braced for a "battle" with the highway.
'Endless jam'
The topic has dominated social media - millions of people have posted comments about their travel experiences.
And across the country many people have managed to see the bright side of their situation - and find something to do to pass the time.
In Guangdong, a 40km (25 mile) stretch of highway from Shenzhen leading into Guangzhou was brought to a near standstill, state broadcaster China Central Television (CCTV) reported.
Similar queues were reported elsewhere. Netizen Nuanyang (a user name) was travelling with her family in Suzhou city on Sunday, just 30km from her home in Changshu.
But they ground to a halt after a service station and had to take a big detour in order to get home.
"The radio said there was a jam of 11km when we drove onto the highway," Nuanyang told the BBC via Sina Weibo - one of China's Twitter equivalents. "As we reached home, it became 38km."
Nuanyang said she had not taken any special preparations for the jams. But others got creative.
A picture gallery put up by the China News Service news agency showed people playing a Chinese version of hacky-sack - keeping a shuttlecock in the air using their feet - to pass the time.
Another photo published by Shanghai-based news portal Eastday showed two people playing tennis on the Shenzhen-Shantou Highway. The report also described people stretching cramped muscles out, turning the highway a "mass gym".
Other netizens reported playing cards to pass the time and one, with the username GodShepherd, sent the BBC a photo of a traveller walking his dog in the jam. It turns out that he was travelling on the same highway that Nuanyang got stuck on.
Another Tencent Weibo user in Guangzhou posted a photo showing cars parked in a row on a highway heading for west Guangdong. It had become a "temporary public toilet", the user joked.
One joke is circulating widely in cyberspace: After more than 10 hours stuck on the highway, a man took out a long wooden stick, and killed a snail by beating its shell into dust. "How dare you overtake me?" he yelled.
Others chose to embrace the chaos, like this student in Shanxi who joked: "What a spectacular jam on the highway! I rushed into it! I didn't spend my National Day holiday in vain!"
But Guangzhou's New Express Daily newspaper said two men had managed to travel jam-free.
The enterprising duo spent more than 15 hours canoeing from Zengcheng city to Guangzhou, spending their mid-autumn festival admiring the moon from the river.
Return peak
China has significantly expanded its highway network in recent years but it still cannot cope with the holiday demand.
The Chinese cabinet approved the toll-free scheme in August, hoping this would alleviate the holiday jams.
But many highways maintained standard practice - drivers obtained a toll card at the entrance and returned it at the exit - even though there was no need to pay.
Beijing News reports the capital's highways saw a significant improvement on 1 October after the municipal government told the highways to stop doing that, and now the Transport Ministry has ordered the rest to follow suit.
Over the eight-day period, China expects a total of 740 million trips - including 660 million by road and water - to be made by various means of transport, the official Xinhua news agency quoted the Ministry of Transport as saying.
So do Chinese motorists think toll-free for holidays is indeed a good thing?
"My only thought is: will they waive the toll again next year?" asked netizen Nuanyang.