Rare Chinese Cultural Revolution photos on display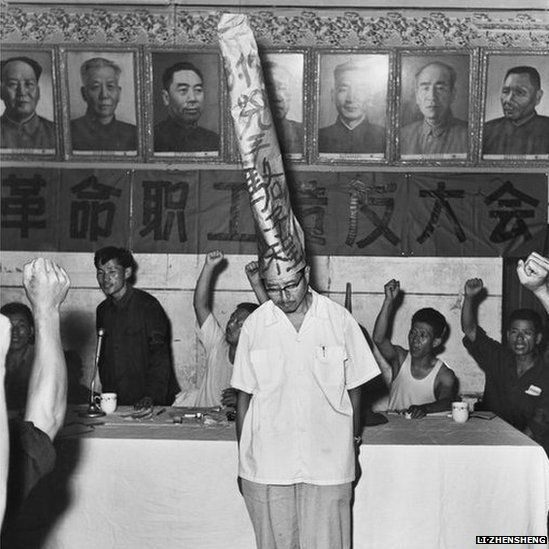 A collection of rare photographs from China's Cultural Revolution is on display in London for the first time since they were hidden for safekeeping nearly 45 years ago.
Li Zhensheng's work has been described as a "unique treasure trove of information" during one of the most turbulent periods of 20th Century history, a 10-year campaign of violence and chaos launched by Mao Zedong's feared Red Guards to enforce communism by removing capitalist, traditional and cultural elements from society.
Millions of people were persecuted in a wide range of abuses carried out across the country, including public humiliation, arbitrary imprisonment, torture and seizure of property.
Because Li Zhensheng worked for a newspaper in the north-eastern Chinese province of Heilongjiang, he was able to take state-approved images of the revolution in his capacity as a working reporter. His job at the Heilongjiang Daily also left him in the unusual position of being able to record its violence and brutality.
"My work meant that I could take photographs of people being persecuted without being harassed," Mr Li told the BBC after the exhibition opened last month.
But in such a tinder box atmosphere, he fully realised that the sensitive nature of his images meant that it was only a question of time before he too would face possible recriminations.
So Mr Li took the precaution of hiding the negatives away under the floorboards of his flat.
When he was eventually accused of counter-revolutionary activities in 1968, his flat was ransacked by the authorities but the negatives themselves remained undiscovered.
If they had been found, Mr Li would have been severely punished and they would almost certainly have been destroyed.
"It was kind of risky," he says with more than a degree of modesty about a collection of photos that experts say is unequalled in size - there are about 30,000 images in his portfolio - and breadth of subject matter.
All the images were taken at a time when being a photographer in China was a dangerous profession.
Because they were in many cases perceived as intellectuals and publicly denounced, many photographers were not prepared to put their lives and their careers on the line by taking pictures that may have upset the authorities.
But it was a risk that Mr Li was prepared to take.
Although much of his extensive archive was first released in a book in 2003, the display at London's Barbican is the first time that his original prints and negatives have been presented to the public - and the first time they have been displayed as panoramics.
"When I took these photos I was not sure how useful they would be. I never dreamed of having them shown like this in the West," Mr Li said.
"I studied cinematography as a student, and my teacher told me that photographers should record everything they see - good and bad - which is what I did. So I took photos of mass rallies and public humiliations not realising that in future they would prove to be so useful."
Robert Pledge of Contact Press Images was closely involved in producing and editing Li Zhensheng's book and helped to curate his photos at the Everything was Moving exhibition - which also includes political and social works by other international photographers during the 1960s and 1970s.
Mr Pledge discovered Mr Li and his portfolio while travelling in China in 1988 to attend a photography event at China's Museum of National History in Beijing.
Each photo was kept by the photographer in small brown paper envelopes, bound together with rubber bands in groups according to chronology, location, type of film or other criteria.
Each envelope in turn contained a single negative inside a glassine pouch. Some had not been removed since he first cut them from their original negative strips and hid them away nearly 45 years earlier.
On each envelope he wrote detailed captions in delicate Chinese calligraphy. Communes and counties, people's names, official titles and specific events were all carefully noted.
"Li shows surreal events to be all too real. Through his lens, these people and occurrences from so far away are made at once personal and universal," said Mr Pledge.
"While some pictures are mundane depictions of everyday life, some are spellbinding.
"There are photos from one of the eight mass rallies staged by Mao in 1966, for example, and photos of a disgraced official having his hair shaved off by a 14-year-old girl as part of his public humiliation."
Mr Pledge says that the photos are also artistically remarkable because of Mr Li's cinematic training.
"Li is one of the few photographers I know whose work is cinematic yet not contrived - their imagery alone is extraordinary."
At present there is no chance of the photos going on display in China, Mr Pledge says.
"The authorities there want to look forward rather than backwards. They regard these photos as dirty laundry from the past not for public consumption. The concern in China today is about expanding the economy rather than embarrassing events of the past."
Everything Was Moving: Photography from the 60s and 70s is open until 13 January 2013 at Barbican Art Gallery, London. www.barbican.org.uk
Related Internet Links
The BBC is not responsible for the content of external sites.