Hong Kong beauty treatment death prompts probe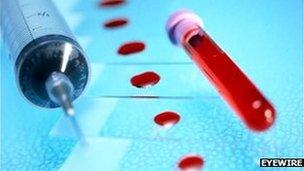 Hong Kong authorities are investigating after a beauty treatment that involved blood transfusion left one woman dead and three in hospital.
The four woman fell ill after procedures at a beauty centre to enhance their looks and immune system.
A 46-year-old woman died of septic shock on Wednesday. Of the other three, a 60-year-old is in critical condition.
The government says it will review regulations on private health care procedures and facilities.
''The aim of the review is to strengthen regulatory control of private health care facilities, including high risk medical treatments, in order to safeguard public safety,'' Hong Kong Health Secretary Ko Wing-man said.
Police Commissioner Andy Tsang has promised a thorough investigation.
The procedure, involving a complicated blood transfusion process, was an experimental treatment for cancer patients, health experts told Hong Kong media.
It required blood to be taken from the person for immune cells to be isolated and then injected back in.
The women are believed to have paid about HK$50,000 (US$6,400; £4,000) for the process.
Blood samples taken from the woman who died on Wednesday had revealed the bacterium Mycobacterium abscessus, health officials said.
The bacterium can cause a variety of infections, including that of the skin and lungs.
A total of 44 people are believed to have undergone the procedure at the DR beauty centre, said a Xinhua news report citing the Hong Kong health department.
The beauty centre said in a statement that the doctor who performed the procedures was not employed by the centre, Reuters reported.