Chinese author Mo Yan hopes for Liu Xiaobo release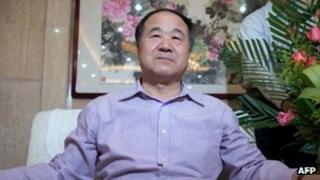 The Chinese writer awarded the Nobel Prize for literature said he hoped peace laureate Liu Xiaobo would be freed "as soon as possible".
Mo Yan's win on Thursday is being celebrated in state media and online.
But some commentators have contrasted it with Beijing's anger at Mr Liu's award two years ago, while Mo Yan has faced claims from dissidents that he is too pro-establishment.
Liu Xiaobo is in prison for subversion after calling for democratic reform.
'Gain freedom'
Mo Yan, 57, has published dozens of short stories. Centered around rural life in China, some have tackled sensitive issues such as corruption or forced abortion.
One of the most acclaimed and prolific authors of his generation, his sly, subversive style - particularly in his earlier works - has won him many fans, reports the BBC's Martin Patience in Beijing.
But he has been criticised by some of his peers, who accuse him to being too close to the authorities, our correspondent adds.
Mo Yan is vice-chairman of the pro-establishment China Writers' Association. His award has generated a raft of coverage in state media and praise on microblog sites.
The Communist Party's top propaganda official, Li Changchun, sent him a letter of congratulations, saying his win reflected "flourishing improvements of Chinese literature".
But dissident artist Ai Weiwei spoke out against him, calling him someone who "will always stand on the side of power".
Speaking at his home in Shandong province, Mo Yan hit back at his critics, saying his books had exposed him "to great risks".
Of Liu Xiaobo, he said he had read Mr Liu's early literary work but did not understand his later political works.
"I hope he can gain freedom as early as possible," Mo Yan told journalists.
Born Guan Moye, the author's pen name Mo Yan means "don't speak" in Chinese.
He is the first Chinese resident to win the literature prize. Chinese-born Gao Xingjian was honoured in 2000, but is a French citizen.