China morning round-up: Economy forecast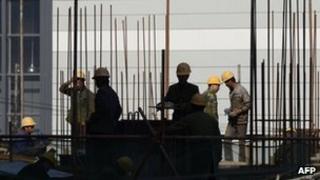 Newspapers give a positive forecast for the fourth quarter, after the latest economic figures showed a further slowdown in growth.
China Daily and People's Daily say the figures mean "the worst may be over" and the economy is set to rebound, as both industrial production and retail sales growth are accelerating.
Meanwhile, the Global Times and Shanghai Daily report house price rises slowed in September, amid concern that recovery in the property market since April would mean a new round of price hikes.
Shanghai Morning Post and Guangzhou's Southern Metropolis Daily report the cabinet announced an income reform proposal will be made in the fourth quarter. It also stressed the importance of maintaining curbs on the property market.
Shanghai Morning Post says the reform proposal could focus on expanding the middle-income group by raising the minimum wage and other measures in order to even out income distribution.
The Global Times' bilingual editorial says: "From a micro perspective, the economy still has many problems, and may encounter new challenges at any time in the future."
"But the important thing is that the country has grown accustomed to the challenges and is equipped with more solutions to tackle them. Thus the risk associated with an economic slowdown has been lowered significantly."
Papers reacted angrily to another visit by Japanese politicians to the controversial Yasukuni Shrine in Tokyo.
China Daily and People's Daily say the visit was condemned by countries across Asia. A People's Daily commentary says Japan has a "lopsided" view of history.
A front-page commentary in the People's Daily overseas edition also says Japanese diplomats' lobbying for support for their claim over the East China Sea islands "cannot peddle sophistry".
Shanghai Daily, the Beijing Times and others report the navy is to kick-start a drill in the East China Sea.
Meanwhile, China Daily and Hong Kong's Sing Tao Daily report Vice-Foreign Minister Fu Ying is to meet Philippine Foreign Affairs Undersecretary Erlinda Basilio in Manila - the first high-level talks between the two countries since the row over the Scarborough Shoal in the South China Sea in April.
Southern Metropolis Daily, Beijing News and others report a deadly highway coach crash in Hunan's Yongzhou city. Four died and dozens were injured after the coach fell off a cliff.
The Global Times and China Daily say Sany, China's biggest machinery firm, has formally announced it will sue US President Barack Obama over Washington's decision to block its wind farm project in the US over national security concerns.
Ralls Corp, a US-based firm owned by two Sany executives, filed its own lawsuit against Mr Obama earlier this month.
China Daily and Shanghai Daily also followed up a plan by Gaomi city to boost tourism after resident Mo Yan was awarded with the Nobel prize for literature.
Beijing News' editorial and a commentary in the Beijing Times warn Mo Yan's fame might be "over-consumed" with irrational big spending.
"Now it's as if I am under a social microscope," China Daily and People's Daily quoted Mo Yan as saying at a meeting celebrated his victory on Thursday.
Meanwhile, in response to calls from independent Chinese writers that Mo should now make use of his influence to talk social and political issues, a commentary in China Youth Daily says "literature does not have to cater public opinion".