China open letter opposes Bo Xilai parliament expulsion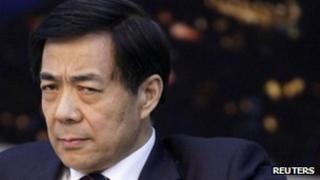 A group of Chinese leftists have written an open letter asking parliament not to expel disgraced Communist party official Bo Xilai.
The letter, signed by more than 700 academics and former officials, was carried on the left-wing Chinese-language website Red China.
It said the move was legally questionable and politically motivated.
China's leftists are a small but vocal group to whom Mr Bo's populist policies appealed.
Expulsion from parliament would remove Bo Xilai's immunity, meaning he could be prosecuted over the scandal that has seen his wife jailed.
Gu Kailai was given a suspended death sentence earlier this year over the murder of British businessman Neil Heywood.
Mr Bo's former police chief and right-hand man Wang Lijun has also been jailed in connection with the scandal.
'Defend himself'
More than 700 academics and former party officials signed the letter in support of the former Chongqing Communist Party leader.
"What is the reason provided for expelling Bo Xilai? Please investigate the facts and the evidence," the letter said.
"Please announce to the people evidence that Bo Xilai will be able to defend himself in accordance with the law."
Those who signed include Li Chengrui, former director of the National Bureau of Statistics and currently a law professor at Peking University, local legislators and members of the now-closed online leftist forum Utopia, as well as a rights activist in Zhejiang.
Lin Longhua, who lives in Chengdu, Sichuan province, said he signed the letter "because I want China's legal system to be fair".
"I believe that the way Bo Xilai's case has been dealt with has seriously violated China's own legal procedures," Mr Lin told the BBC Chinese Service.
"I do not consider myself to be a leftist or rightist. What I just want is for... the country to have more democracy and freedom. I have never supported Bo Xilai before", he added.
Many Chinese internet users cannot access the Red China website, which has supported Bo Xilai, and the letter so far does not appear to have been reported in state m media.
But the letter exposes the deep divisions that continue to exist within the party over the Bo Xilai affair, reports the BBC's Martin Patience in Beijing.
Mr Bo's flamboyant populist style - including the promotion of old party songs and his policies for state-led growth - pitted him against reformist colleagues, our correspondent adds.
He has not been seen in public since mid-March, shortly after the scandal erupted and it was announced he was under investigation.
He was suspended from his party posts in April and expelled from the Communist Party in September. State media says he faces charges related to corruption, abuse of power and bribe-taking.
But, says our correspondent, supporters maintain that Mr Bo's enemies have used this scandal to end his career for political reasons.
Mr Bo, 63, had been a prime candidate for a top post in the leadership handover set for next month before the scandal broke.