China morning round-up: Parliament and the military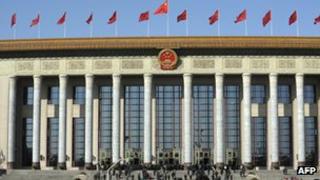 Newspapers cover the latest parliamentary session and reports of military personnel changes, ahead of the Communist Party national congress in November.
China Daily and People's Daily say seven laws will be amended during the National People's Congress (NPC) Standing Committee meeting to comply with the Criminal Procedure Law, which was amended in March.
Hong Kong's South China Morning Post and pro-Beijing Wen Wei Po say the Standing Committee is likely to approve a report that would expel disgraced Communist party official Bo Xilai from the NPC.
Expulsion from parliament would remove Bo Xilai's immunity, meaning he could be prosecuted over the scandal involving the killing of British businessman Neil Heywood. Mr Bo's wife Gu Kailai has already been jailed.
Hong Kong's pro-Beijing Ta Kung Pao, as well as Ming Pao Daily News and Sing Tao Daily, reported that there had been several high level military personnel changes, citing different sources.
Reports say Gen Ma Xiaotian, deputy chief of general staff, has become the new air force commander, while Gen Zhang Yang, political commissar of the Guangzhou military area command, now heads the military's General Political Department.
However, this has not been reported in most mainland Chinese newspapers, including the China Daily and People's Daily, which would usually carry formal announcements.
Chongqing Morning Post promoted the story on its front page, but is not accessible from its website. The Global Times carried a report, but cited local reports and analysis from the South China Morning Post.
Newspapers also published reactions to the last TV debate ahead of the US presidential election.
The Global Times says President Barack Obama "surprised China and his own people" by calling China an "adversary". Shanghai Morning Post says Mr Obama and his challenger Mitt Romney showed "a rare solidarity" on how to treat China.
China Daily says many Chinese people discussed the US debate through social media on the internet.
A commentary in People's Daily says the debate showed that the US-China relationship was "one of the most important yet most complicated in the world".
The Global Times' bilingual editorial says: "Even public opinion in the US is tired of watching them use China as a gimmick. Accordingly, the two candidates were more restrained."
"It once again showed that Sino-US relations involve many interests. Their opposition toward China will not last long."
Also on Wednesday, China Daily reported that the foreign ministry condemned a Chinese citizen for tearing up a poster of Cambodia's late king, Norodom Sihanouk.
The garment factory supervisor's action triggered a protest by more than 1,000 Cambodian workers at the factory in Phnom Penh where she worked.
The Global Times reported that some local officials are receiving training on how to avoid scandals on the internet. A few local officials, such as Yang Dacai, were removed recently after pictures circulated in social media revealed allegations of wrongdoings.